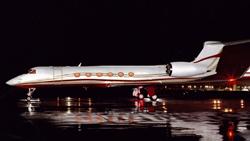 This case went very smoothly. The client was very pleased with the results. We look forward to working with them again.
Sacramento, CA (PRWEB) December 12, 2016
Aero & Marine Tax Professionals, a tax firm specializing in sales/use tax exemptions for aircraft and vessels in California, assisted Gaas Labs, a technology company, in supporting a claim for a use tax exemption on the purchase of a Gulfstream V. Gaas Labs saved $1,665,000.00 in aircraft tax.
John Ocampo of Gaas Labs was very pleased with the outcome. "We are a technology company in the semiconductor business. We have several design centers all over the United States that we visit on a regular basis," he stated. "With the way airlines are organized these days, flying commercially would demand taking multiple connection flights, losing us valuable operations time. Perkins Coie LLP referred us to Aero and Marine Tax Professionals. The process with them was pretty seamless. Aero and Marine is very open and transparent as far as the work they perform. They updated us on a regular basis on where things stood. By the end, we received our letter from the state and we were good to go, as promised. We are very happy with the outcome and I would absolutely recommend Aero and Marine to others."
Tom Alston, founder and CEO of Aero and Marine Tax Professionals stated: "This case went very smoothly. The client was very pleased with the results. We look forward to working with them again."
AERO & MARINE TAX PROFESSIONALS shows purchasers how to avoid sales tax, specifically how to avoid aircraft tax and vessel tax in California and to make certain the full value of their next aircraft, vehicle or vessel goes into their pocket--not the government's. They have successfully filed hundreds of tax returns with the California State Board of Equalization. Mr. Alston has also published many articles on sales and use tax. His blog can be seen at http://www.aeromarinetaxpros.com/aero/articles
Thomas A. Alston
President and CEO
AERO & MARINE TAX PROFESSIONALS
8758 Freesia Drive
Elk Grove, CA 95624
916-691-9192 ext 108
916-691-9185 Fax
http://www.aeromarinetaxpros.com
https://www.facebook.com/AeroMarineTaxPros
https://www.linkedin.com/in/thomasaalston
https://www.youtube.com/user/CAAircraftSalesTax