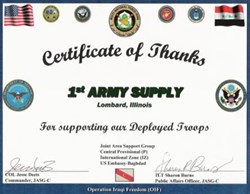 1st Army Supply is now offering complimentary shipping for orders over $75 at http://www.1starmy.com.
Lombard, IL (PRWEB) December 27, 2013
1st Army Supply, the online leader in military supply stores, is now offering free shipping on orders over $75. At 1st Army Supply, you can find boots for every job in the field, "Army Strong" t-shirts, Marine "hoodie" pullovers, jungle boots and more. 1st Army Supply, which is open seven days a week, also sells alpha n3b parkas, military rain gear and enduring freedom patches.
At 1st Army surplus supply store, extreme cold military wear is available as well as a large selection of army supplies, crew necks, dog tags, name tags, and thousands of other military surplus supplies. 1st Army Supply, a military army surplus store, also offers "Ghosts of War" t-shirts, face masks, leather gloves, glove liners and a variety of leather coats and jackets. For those looking for military fleece hoodies, lightweight vintage jackets or flight jackets, they can be found at 1st Army Supply. Cooking sets, tents, water buckets and medals, insignias and patches as well as some parade items can also be found online at 1st Army Supply. Military ribbons, challenge coins and hat pins can also be purchased at 1st Army Supply.
In addition, naval pea coats, 24-7 tactical pants, combat boots and A-TACS tactical caps are also on sale at 1st Army Supply. Army veteran baseball caps, Kids Tactical Cross Draw Vests and war memorabilia from WW I through Operation Enduring Freedom can also be found at 1st Army Supply. There is also camping gear available, including Air Force Fire Starters, CFP-90 Backpacks, camp axes, fire starters, mosquito repellant, folding shovels, a variety of canteen cups to choose from and even an Aquamira Frontier Emergency Water Filtration Systems. 1st Army Supply has one of the biggest selections around and sets the standard for law enforcement supply stores.
Information about hours, products and services is available at 1st Army Supply's web site or by calling (630)916-7380.