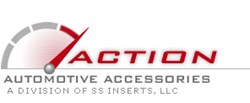 ACTION AUTOMOTIVE ACCESSORIES NOW OFFERING INSTANT DISCOUNT CODES TO SAVE 10% ON PURCHASES
Scottsdale, Arizona (PRWEB) December 30, 2013
Action Auto is a one stop online shop for car accessories and auto parts with an avalanche of quality parts and accessories for Chevrolet Corvette, Ford Mustang, Dodge Challenger, Camaro, just to mention a few. It is a company with class and standard for people who want the best in car parts and accessories. The good news around, at this time of the year is that the company is now offering new services involving the sales of brand new auto parts and accessories for 2013 and 2014. Action Automotive also offers a great opportunity with an instant discount code that helps to save 10% off.
Action Automotive Accessories is a division of SS Inserts, LLC. The company is located at Scottsdale, Arizona and is open Monday through Friday each week. Action Automotive has a very strong online presence at http://www.actionautoaccessories.com, on the website consumers can find all the parts that they are looking for. From rare and hard to find parts to popular Mustang accessories that can be found elsewhere at three times the Action Automotive price. Many clients of Action Automotive have had very positive experiences with the company including Sandi Borja, a lawyer from Los Alamitos, CA who said, "I recently knocked off my driver's side mirror and got a quote from Action Auto to fix it. They explained that the part is expensive and to double check, I called a local Ford dealer who wanted more to do the repair than Action Auto... I ran back to do the fix with Action Auto to fix it, they are the best..."
Action Automotive's website is well designed, easy to use, and adorned with the ultra high quality products available exclusively from Action Auto. The products are updated regularly and any one has the option of shopping by model, painted ponies, one can also view the stainless steel inserts and even shop through the new products. Action automotives has a standard, customer friendly shipping and returns policy, you can check it out before you place your orders. Action Automotive has through its website sold thousands of parts to clients all around the United States and is willing to sell more putting into consideration the pockets of clients. This is why the company is offering this new instant discount code to save 10% on every purchase you make. This is an opportunity everyone should embrace.
Action Automotive is dedicated to giving class to cars and with the new discount code, customers can get all their parts without putting a hole in their pockets. Get the best, go Action Automotive and join the community of people in America with positive experience with the best car part seller. Check it out today at http://www.actionautoaccessories.com/ and do not forget to use the discount code before the time runs out. Be a part of it now.