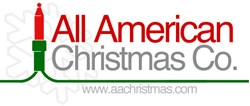 AA Christmas Company is now offering LED Christmas Lights online.
Sparta, TN (PRWEB) December 05, 2013
Christmas is just around the corner. As the air becomes colder and the first snow fall hits many regions of the country, warm Christmas feelings begin to arise. There's a reason many people think the Christmas season is "the most wonderful time of the year." Each and every season individuals nationwide begin to reunite with family and friends, create new traditions, and reminisce on fond memories. The first sign of Christmas returning is always the lighting displays that shine bright in American neighborhoods across the country. Beautiful and sparkling lights get adults, teenagers, and children back into the Christmas spirit. Before the season fully begins, now is the time to think about any and all DIY lighting needs.
AA Christmas Company is now offering their giant selection of Christmas Lights and LED Christmas Lights online. Popular Christmas lights include mini-lights, C7 and C9 light bulbs, icicle lights, LED Christmas lights and Christmas light strings for inside and outside of the home. The C7 and C9 style are a classic Christmas light bulb that are popular in transparent steady burn and twinkle and opaque styles. Icicle lights conjure the feeling of the first snow fall all season long and in any climate. LED Christmas lights have an approximate bulb life of 80,000 hours compared to just 2,500 for mini lights. These lights also reduce energy up to 90%, which saves families hundred on lighting bills. All options come in a wide variety of colors and styles.
In addition, a popular complement to classic Christmas lights are Christmas light displays. Nothing says "Merry Christmas," quite like a gorgeous lawn display that features traditional holiday imagery. These can include: Santa and his Reindeer, Snowflakes, Wreathes and Holly. There are also a wide variety of nativity displays, perfect for any family who wants to evoke the classic spirit of Christmas.
The options are endless and now is the time to start searching for the perfect lighting display that will suit each unique family. For more information and to view a detailed description of each and every Christmas Light log on to: AAChristmas.com