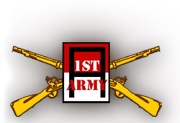 1st Army Surplus, a military supply store, is now offering a giant selection of Wise Survival Foods. Full details are available online at https://www.1starmy.com.
Lombard, IL (PRWEB) December 09, 2013
1st Army Surplus, a military supply store, is now offering Wise Survival Foods that have been recommended by Survival Experts Mykel Hawke and Ruth England. Visit http://www.1starmy.com today to see the extensive collection of emergency supplies.
Wise Survival Foods have been featured on Fox News, ABC, the Military Channel, and many more. They have a shelf life of 25 years and are made of freeze dried and dehydrated components. 1st Army is a proud retailer of the amazing products. Being prepared for natural disasters and other emergencies is easy with these emergency food supplies.
In addition to emergency survival supplies, 1st Army offers army supplies that include military rain gear, military army surplus, extreme cold military supplies, and more. The company also has a large stock of army surplus supply materials and law enforcement supply materials. Some of the top sellers are the Enduring Freedom patch and the Alpha N3B Parka. The company also has less serious items such as the Claymore Mine Trailer Hitch and the Claymore Mine Desk Accessory that make great gifts.
1st Army Surplus was founded in 1982 and soon grew into the 5000 square foot store that it is today. The company is a registered contractor for the Department of Defense and takes pride in serving U.S. military bases around the world. The products that are sold by 1st Army are quality made and durable to withstand extreme conditions.
Customers can place an order online at http://www.1starmy.com, by fax by sending a order form to 630-916-7389, or by phone by calling 800-499-7380. Customers who have questions or concerns about the products offered at 1st Army Surplus can call 630-916-7380 and someone will assist them. Customers who are local can also visit the store at 310 W. Roosevelt Rd. Lombard, IL 60148. Over 2000 items are on display at the store's showroom to make shopping easy and fun. The company offers 2nd day and next day shipping for customers who need their order in a hurry. Orders over $75 may qualify for free standard ground shipping for customers who don't mind waiting a few days for their order.