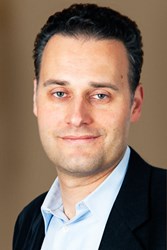 CHICAGO (PRWEB) December 03, 2013
cleverbridge, a global full-service e-commerce provider for software and SaaS companies, announces its CFO and general counsel, Oliver Breme, will present at the 25th annual All Hands Meeting to be held Dec. 4-5, 2013 at the Santa Clara Convention Center in Santa Clara, Calif. Presented by Ivy Associates in coordination with the Silicon Valley Association of General Counsel, the event is the nation's largest Continuing Legal Education (CLE) event for legal, HR and intellectual property professionals at technology and life science companies - addressing the spectrum of legal, regulatory and ethical issues this community faces on a daily basis.
Breme will take part in the "Anatomy of a Tech Agreement: Drafting and Negotiating Contracts Involving Digital Media Content" panel discussion from 10:30 a.m. – 12:00 p.m. PT. Breme will be joined by Stephen Fronk and Glenn Nash, partners at Sidley Austin LLP, and Joe Ramirez, vice president of licensing and associate general counsel for Adobe Systems. With the proliferation of Internet-connected mobile devices and the increasing array of digital content distribution service offerings, the panelists will deconstruct a digital content distribution agreement, illuminating the key points of contention between content owners and providers of consumer-facing digital content storage and distribution services. They'll also offer insights and potential solutions based on real-world negotiations, including: (1) the scope of rights granted; (2) privacy and data security obligations and risk allocations; (3) content protection obligations and risk allocations; and (4) service level commitments.
Attended last year by nearly 500 general counsel, staff counsel and other professionals from 175 corporate legal departments, the All Hands Meeting is a unique, multifaceted annual event tailored to the special needs of in-house professionals whose companies rely upon intellectual property. The conference is open to general and staff counsel in corporate legal departments and to other in-house managers, professionals and paraprofessionals such as patent agents, licensing executives, HR professionals, contracts managers and paralegals.
For more information on All Hands Meeting, visit http://www.ivyevents.com/allhands. For more information on cleverbridge, please contact inquiry(at)cleverbridge(dot)com or visit http://www.cleverbridge.com.
About cleverbridge
cleverbridge is a global full-service e-commerce provider for companies that sell software and SaaS solutions. The company's flexible cloud-based platform and experienced client service drive the performance of B2C and B2B businesses around the world, enabling the complete optimization of their global online sales and marketing initiatives. Headquartered in Cologne, Germany with offices in Chicago, San Francisco, and Tokyo, cleverbridge provides a customized, multi-channel e-business solution to more than 300 international corporations like Acronis, Avira, Dell, Malwarebytes and Parallels, supporting their traditional, SaaS and subscription-based e-commerce needs. For more information, visit http://www.cleverbridge.com or the Building Keystones blog.
# # #