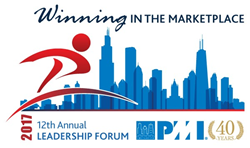 We are very excited to offer this event discussing how we lead through transformation change. The speaker line-up includes globally recognized experts in this field with much to share. So don't miss out on this event! - Amy Martin VP of Business Outreach
Wheeling, IL (PRWEB) April 21, 2017
The PMI Chicagoland Chapter is hosting its premier leadership event of the year, 12th Annual Leadership Forum bringing together executives from various industries, facing similar challenges while learning and understanding what it takes to lead in this age of transformation and how to impact your company's organizational culture. The theme "Winning in the Marketplace 2020: Harnessing the power of project management to drive organizational transformation," will highlight the forward thinking project and program management leaders are rapidly embracing within the change implementation process to achieve sustainable organizational growth.
Laszlo S. Gonc, Chair of Leadership Forum 2017; Partner – Security, IT Risk & Compliance Practice will be the Moderator. Keynote speakers Skip Weisman and Andy Kaufman, PMP, will address the audience during sessions prior to the panel discussions and will share their real-life experiences along with the best practices, and provide insightful and engaging discussions. More information about them can be found at PMI Chicagoland Chapter website.
The following distinguished panelists have been selected to participate as Panelists at the 12th Annual Leadership Forum:

Deborah Lee, PMP, CSM, former Director, Global Program Management at Gogo
Chris Rodkey, Managing Director, Ops PMO at United Airlines
Phil Weinzimer, President, Strategere Consulting
Paul Zielinski, Director of Strategy and Planning at Aon Corporation
Time is running out to register for the exclusive 12th Annual Leadership Forum and it will be held on May 5, 2017 from 7:30AM to Noon at Chevy Chase Club in Wheeling, IL. The public is invited to attend to come listen, network & share experiences with fellow attendees. Please click here to register for the event at the PMI Chicagoland Chapter's Events landing page.
About PMI Chicagoland
With about 4000 members in the Chicago metropolitan area, PMI Chicagoland is one of the largest chapters in the world and one of the most active chapters of the Project Management Institute (PMI) - the world's leading not-for-profit professional membership association for the project, program and portfolio management profession. Founded in 1969, PMI delivers value for more than 2.9 million professionals working in nearly every country in the world through global advocacy, collaboration, education and research.