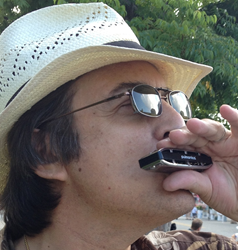 Deep belly breathing delivers more life-sustaining oxygen to our cells, but we become chronic shallow breathers by habit.
Sarasota, Florida (PRWEB) March 13, 2014
After learning that a family member had emphysema, Dana Keller, PhD, and his wife, Mary Lou, created the Pulmonica® – a pulmonary harmonica for nonmusicians that exercises the diaphragm and chest muscles to improve breathing. Together, the two announce 12 how-to tips for improving one's breathing.
"No musical talent is required for this unusual harmonica," said Dr. Keller. "Just breathing deeply through three holes at a time is therapeutic and always sounds good. The low tuning is meditative and soothing, and provides a pulsing that helps loosen lung and sinus congestion. After congestion is cleared, breathing is easier."
"Important for everyone, but essential for the millions of people with COPD, asthma, or other breathing problems, deep belly breathing will deliver more life-sustaining oxygen to your cells," Mary Lou added. "In cooperation with local physicians and respiratory technicians, we developed 12 Tips to Improve Your Breathing, which covers the basics of pulmonary rehabilitation and using the Pulmonica."
12 Tips to Improve Your Breathing
1) If you smoke, stop. Every puff damages your lungs and shortens your life. Talk to your doctor about new methods for quitting. Try to keep the teens in your life from starting to smoke.
2) Breathe deeply from your belly. If you're not sure if you're belly breathing, lean back with a hand on your stomach and breathe deeply from the bottom of your lungs up. Your stomach should rise and fall. Keep practicing until this is natural all of the time. Shallow breathing doesn't let as much oxygen get to your vital organs. Using the Pulmonica daily will help make deep breathing a habit.
3) Exercise as much as possible, again to get that oxygen and blood flowing. Try to do something active every day, and break a sweat four or five times a week, with physician approval, of course. Lifting weights and staying strong now will help you to stay independent later. Using the Pulmonica exercises the diaphragm and chest muscles.
4) If needed, take medications and use oxygen correctly, as prescribed by your doctor. Also ask about local pulmonary rehabilitation programs.
5) Use good posture to keep airways open, especially while using a nebulizer, inhaler, or Pulmonica.
6) Stay healthy. Get a flu vaccine every year and get a pneumonia vaccination every five to ten years, as advised by your physician. Avoid sick people, and wash your hands often.
7) Avoid triggers that can make pulmonary disorders worse, such as: air pollution, cigarette smoke, very cold or very humid air, pollen, dust, animal dander and fragrances. Use air filters and/or AC. Put a sign on your door to let visitors know about your triggers.
8) Eat healthy foods in a well-balanced diet. Lose weight if necessary to make breathing easier. Add more fruits and vegetables to your diet.
9) Drink plenty of water. Saline nose sprays can help keep sinuses hydrated.
10) Get enough sleep. Conserve energy for the important tasks.
11) Clear sputum with deep coughing, the huff and cough technique, or the Pulmonica. Examine sputum for changes in color or amount, and contact your doctor if you become sick.
12) Find emotional support. It's tough having impaired lung function. Talk to a doctor or counselor about anxiety or depression, and join a support group such as the American Lung Association's Better Breathers Club.
Find more information at http://www.pulmonica.com and at the Pulmonica page on Amazon.com. The Kellers are available to speak to groups about harmonicas in health care and the Pulmonica. They may be contacted through their website, http://www.Pulmonica.com, or by calling 888-382-9283.
The Kellers now donate Pulmonicas for the pulmonary support group at the Senior Friendship Center in Sarasota. Their relative with mild emphysema enjoys playing the harmonica and feels it has helped his breathing and his social life.