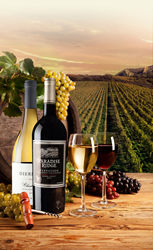 Santa Barbara, CA (PRWEB) June 13, 2015
The Gold Medal Wine Club offers only hard-to-find, small production wines from boutique family wineries. Many of their wines have won multiple medals and awards from major wine competitions and have high ratings from major wine publications. In some cases, the wines are even pre-releases and exclusives that are only offered at the winery itself and through the Club.
Six levels of membership are available to suit a variety of budgets and interests.
Membership starts at the Gold Level, which offers one delivery a month at a very manageable price of $37 (plus shipping) a month. Delivery includes two highly rated wines, one white and one red, from California wineries. Each shipment is delivered perfectly presented in organza packaging with beautiful bows tied around the necks of each bottle.
Membership also includes a subscription to Gold Medal Wine Club's color publication, "The Wine Press." This informative feature offers information about the wines, the backgrounds of the winery owners, a behind-the-scenes tour of the vineyards, and great food pairing ideas from the winemakers themselves.
International Level memberships are a premium gift for the father who enjoys other cultures and more refined wine palates. In this membership each shipment contains three bottles of wine along with gourmet foods from the country of the wine to complement each wine variety. Shipments cost roughly $100.
International Level members will receive an inclusive publication titled, "Taste the Adventure" which includes information on the wines, winery and country or origin.
A free personalized greeting card is also included. An artist commissioned Gift box is available for an additional $5.99.
To learn more, or subscribe to your first wine club membership, please visit http://www.goldmedalwineclub.com.
About Gold Medal Wine
Gold Medal Wine Club has provided club members and other shoppers with highly-rated, rare wines since its foundation in 1992 as an independent wine club; the company only offers boutique wines that have won medals, earned awards, or garnered other accolades and recognition. The company's six Wine Club series and online wine store feature wines from California and around the world, available at affordable prices with discounts as high as 40 percent off in-store retail prices. To learn more about Gold Medal Wine Club, please visit http://www.goldmedalwineclub.com.