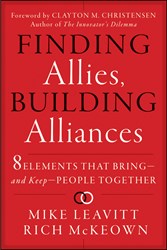 Leavitt and McKeown provide a clear, simple roadmap for how to approach collaboration and the necessary elements for groups and people working together to succeed.
Salt Lake City, UT (PRWEB) August 26, 2013
While temperatures across the nation continue to sizzle in these waning days of summer, the political landscape in Washington remains frozen in a morass of partisan bickering and polarized positioning. Is there an answer anywhere on the horizon? In his new book, Mike Leavitt, former U.S. Secretary of Health and Human Services and three-time governor of Utah, provides a practical approach based on proven, tested collaboration principles to solve critical problems in the public and private sectors. Finding Allies, Building Alliances chronicles Leavitt's unique abilities to bring competing parties together to forge solutions that cannot be accomplished by individuals alone.
"I observed firsthand Mike Leavitt's skill at bringing people together and building coalitions in government, politics, and international affairs," wrote Robert B. Zoellick, former president of the World Bank and past U.S. Deputy Secretary of State. "Finding Allies, Building Alliances explains how successful managers cooperate to achieve goals and get things done in an environment brimming with complexity, uncertainty, and a multiplicity of actors."
Written in conjunction with his former Chief of Staff, Rich McKeown, Leavitt reviews their first-hand experiences building high-level collaborations in the public and private sectors. In Finding Allies, Building Alliances: 8 Elements that Bring—and Keep—People Together (Jossey-Bass; 978-1-118-24792-1; September 2013; $29.95; e-book available), Leavitt and McKeown help senior executives, managers, and anyone who needs to find solutions to complex problems by introducing 8 elements that will empower any leader to foster and maintain an effective alliance venture.
Clayton M. Christensen, Harvard business professor and author of the book's foreword, writes: "When we succeed at a difficult task, too many of us learn that the hammer that worked once is the tool to be used in every situation. In contrast, Governor Leavitt, in forging alliances as different as cleaning air at the Grand Canyon; creating Western Governors University; and the agreements on how insurance companies will record health care data in a standard format, followed very different paths. His theory is contingent-specific. He articulates the different situations you might find yourself; and then tells you the path you need to follow to be successful in each. The book is filled with 'if-then' statements."
Finding Allies, Building Alliances shows how well structured collaborations can not only solve problems but can also boost competitiveness and market position. "I've seen first-hand how collaboration is crucial to success--not only within an organization, but between multiple organizations," said Google chairman Eric Schmidt. "Leavitt and McKeown provide a clear, simple roadmap for how to approach collaboration and the necessary elements for groups and people working together to succeed."
About the Authors
Mike Leavitt (Salt Lake City, Utah) is the founder and chairman of Leavitt Partners, where he has advised clients since 2009 in the practice areas of health care, environment and trade. He served as the Secretary of Health and Human Services in the Cabinet of President George W. Bush (2005-2009); led the Environmental Protection Agency (2003-2005); and served three terms as governor of Utah (1993-2003). His managerial accomplishments include leading the implementation of the Medicare Part D prescription drug program, which serves 43 million seniors; collaborating with other governors to found Western Governor's University, a non-profit online university system; and spearheading an innovative design-build system to revamp the Utah highway network ahead of schedule and under budget.
Rich McKeown (Salt Lake City, Utah) is president, CEO and co-founder of Leavitt Partners, where he leads teams that help clients enter new markets, enhance product value, and navigate regulatory systems. During his tenure as Chief of Staff at Health and Human Services, he managed the day-to-day activities of 67,000 employees with a budget of $750 billion and led landmark food safety negotiations between the FDA and the Chinese government.
About Finding Allies, Building Alliances
In Finding Allies, Building Alliances, Mike Leavitt and Rich McKeown use their personal public and private sector experiences to help readers understand that challenges extend far beyond them and their organizations. Finding solutions to larger issues requires cooperation between diverse stakeholders, and in this rapidly changing world, only those able to adapt and network successfully will produce fast, competitive solutions. The 8 elements required for a collaborative network to succeed detailed in the book are:
1. A Common Pain—a shared problem that motivates different people/groups to work together in ways that could otherwise seem counterintuitive.
2. A Convener of Stature—a respected and influential presence who can bring people to the table and, when necessary, keep them there.
3. Representatives of Substance—collaborative participants must bring the right mix of experience and expertise for legitimacy and have the authority to make decisions.
4. Committed Leaders—individuals who possess the skill, creativity, dedication and tenacity to move an alliance forward even when it hits the inevitable rough patches.
5. A Clearly Defined Purpose—a driving idea that keeps people on task rather than being sidetracked by complexity, ambiguity and other distractions
6. A Formal Charter—established rules that help resolve differences and avoid stalemates.
7. The Northbound Train—an intuitive confidence that an alliance will get to its destination, achieve something of unique value, and that those who aren't on board will be disadvantaged.
8. A Common Information Base—keeps everyone in the loop and avoids divisive secrets and opaqueness.