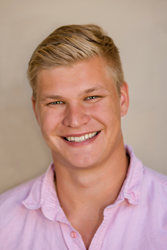 "Quiet Freaks!" -Luke Holliday
WALNUT CREEK, Calif. (PRWEB) August 19, 2019
Austin Aaron, a record breaking wide receiver at Napa High School in the Bay Area, had 12 full ride scholarship offers out of high school from academic powerhouses Harvard, Yale and Princeton as well as football national championship contenders USC, Florida and Utah. However, he decided to stay close to home, committing to Cal in his Junior season where his Dad and Grandmother both attended.
After playing 2 years as a wide receiver for the California Golden Bears under star Rams QB Jared Goff and suffering multiple injuries, Aaron decided to give up his dream of the NFL by giving up a full ride scholarship and deciding to walk away from the game of football. He remained at Cal to continue pursing his degree and always had a dream of being an actor after playing Troy Bolton in a homecoming skit of High School Musical at Napa High.
Aaron quickly signed with local agency NYLO who got him an audition to say the line "Quiet Freaks!" as Jock #2 in season 2 of 13 Reasons Why. After booking the role, production fell in love with him and after finding out of his football career, decided to bring him back as the Quarterback for the final episode.
A month after season 2 filming ended, production decided to bring him in for an audition as they developed ideas for season 3. The producers/casting directors were blown away and made the decision to write him in as recurring character Luke Holliday, a new burly, handsome jock with a huge story line in 11 episodes of season 3. After watching the final product of his work in season 3, production decided to increase Luke to an even larger role for season 4 which is being filmed in the Bay Area right now.
After graduating with a Sociology degree from UC Berkeley this past Spring, and through his work on 13 Reasons Why over the past year, his abilities have taken the eye of several people throughout the industry landing him a top manager in LA. It seems only a matter of time before Austin Aaron blows up worldwide, as the show releases in 8 days, and people will see what this 22 year old 6'5" 240lb blonde, golden retriever of a man is made of!