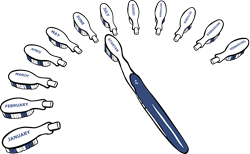 I realized that there had to be a simple solution to remind people when it was time to change toothbrushes. That's how I came up with the idea for 13 Clean.
NYACK, NY (PRWEB) October 15, 2014
ToiletTree Products' new toothbrush, 13 Clean, offers an easy way to keep track of toothbrushes' ages and remind users when it's time to replace old toothbrushes. The toothbrush consists of one starter head and 12 replaceable heads that are each clearly marked with a month of the year so that the user always knows their toothbrush is fresh. 13 Clean is now funding on Kickstarter with a campaign goal of $10,000 to ensure production and mass-distribution of the toothbrush.
The American Dental Association suggests that people replace their toothbrush every three months. However, people get busy and rarely remember to do such an easy thing. Toothbrushes can easily build up germs and bacteria, especially ones that sit on counters that are usually only a few feet away from toilets. This is where 13 Clean comes in to help. This intuitive toothbrush offers a guaranteed way to remind users to change their toothbrush monthly.
13 Clean is a standard toothbrush that comes with twelve replaceable heads. Each head has bristles that are between soft and medium texture and a clearly labeled month of the year on the back. This allows users to easily remember the last time they replaced their toothbrush head and how long they've been using one. By replacing the head every month, users are eliminating the opportunity for unwanted germs and bacteria to settle into the bristles and infest the toothbrush.
"I was disgusted when I read about how dirty toothbrush heads can become if gone unreplaced," said Steve Parisi, creator of 13 Clean. "However, I still had trouble remembering when to replace my toothbrush. I realized that there had to be a simple solution to remind people when it was time to change toothbrushes. That's how I came up with the idea for 13 Clean."
Not only does 13 Clean offer a cleaner solution to dental care, it also offers less waste. By keeping one standard handle and only replacing the head, 13 Clean uses two-thirds less plastic than if users replaced an entire toothbrush every month. The 13 Clean set also comes with a toothbrush stand to hold the extra heads and keep them sanitary while not in use.
13 Clean is now running a crowdfunding campaign on Kickstarter. The campaign will run for 30 days and have a funding goal of $10,000. For as little as $10, early backers can receive their very own 13 Clean toothbrush set in their choice of blue or pink. To learn more about 13 Clean its Kickstarter campaign, click here http://bit.ly/13CleanKS.
TOILETTREE PRODUCTS
ToiletTree Products a family owned company with a silly name and intelligent products. Many of its products are currently featured in Bed Bath & Beyond and CVS stores nationwide. Products are also sold online and through the print catalogs of Brookstone, Sharper Image, Frontgate, and Hammacher Schlemmer. ToiletTree's LED Fogless Shower Mirror was even named "The Best Fogless Lighted Mirror" on the market by The Hammacher Schlemmer Institute: a non-profit organization that researches, tests, and rates consumer products objectively. ToiletTree Products is also a top-rated seller on Amazon.com with an almost perfect 5-star feedback rating thanks to over 10,000 positive customer feedbacks. In August of 2014, it made the Inc.500 list of top growing companies in the US. To learn more, visit the website at http://www.toilettreeproducts.com/.