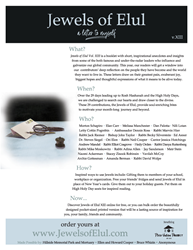 "Now more than ever we need to be inspired by a wide range of leaders, even those we do not always agree with."
LOS ANGELES (PRWEB) August 19, 2019
Craig Taubman and the Pico Union Project a multi-faith cultural art center located in Los Angeles' oldest Synagogue building production will release the 13th edition of Jewels of Elul, a collection of stories, anecdotes and inspirations in anticipation of the High Holidays.
Released in concurrence with the month of Elul and the Jewish Holy Days that follow, Jewels of Elul XIII features contributions from a diverse group of individuals including an Academy Award winning Rabbi, musicians, artists, politicians, activists, authors and a 13 year old Jewish day school student. This year's publication provides a window into each author's hopes, dreams, regrets and wisdom as they share "a Letter to Myself."
"It's been my honor to share the wisdom of an amazingly diverse group of contributors with our growing readership," says Taubman. "Each year, we strive to inspire more and more people. Now more than ever we need to be inspired by a wide range of leaders, even those we do not always agree with."
The Pico Union Project expects that this year's edition of Jewels of Elul will reach hundreds of thousands of people around the world through a printed booklet to be distributed free of charge and online at http://www.jewelsofelul.com and through a wide variety of media partners. Rabbi Yechiel Hoffman, project coordinator for this year's edition, added "Jewels of Elul brings a symphony of inspiring voices to bring harmony to the cacophony of attention seekers grabbing for our attention in today's discourse. The Jewish High Holy Days provide a moment to reflect and consider our past and future, and this year's Jewels of Elul provides 30 insights to elevate the present."
For more information on Jewels of Elul XIII, to receive promo copies, or to schedule interviews, please call 213 915-0084.
List Jewels of Elul XIII Contributors:

Rabbi David Wolpe-Max Webb Senior Rabbi of Sinai Temple: Introduction
Jessica Hutchings-Cantor of Congregation Ner Tamid in Henderson, NV.
Rabbi Danya Ruttenberg- Author of seven books on spirituality, justice, parenting, sex, and other topics.
Jay Sanderson-President and CEO of the Jewish Federation of Greater Los Angeles
Rabbi Jack Reimer-Author and Educator
Meir Stein-13-year old student at Milton Gottesman Jewish Day School in Washington, D.C.; adopted from Guatemala at 5 1/2 months old.
Rabbi Neil Cooper, Senior Rabbi at Temple Beth Hillel inWynnewood PA
Dr. Andrew K. Mandel-Rabbinic Student at HUC in NY and activist
Ambassador Dennis Ross-Counselor and William Davidson Distinguished Fellow at the Washington Institute for Near East Policy
Letty Cottin Pogrebin-Writer and Activist
Naomi Ackerman-Performer, Educator and Found of The Advot Project
Rabbi Adina Allen-Spiritual leader, writer and educator and co-founder of the Jewish Studio Project
Dr. Steven Siegel-Chair of the Department of Psychiatry and the Behavioral Sciences at the University of Southern California.
Morton Schapiro-President and Professor of Economics, Northwestern University, Evanston, IL.
Stacey Zisook Robinson-Poet, essayist and full-time rabbinic student
Rabbi Becky Silverstein-Rabbi, Educator and founder of Beyn Kodesh L'chol
Amanda Berman-Founder and Executive Director, Zioness Movement
Rabbi Mike Moskowitz-Scholar-in-Residence, Trans and Queer Jewish Studies at Congregation Beit Simchat Torah
Rabbi Marvin Hier-Founder and Dean, Simon Wiesenthal Center
Nili Lotan-Entrepreneur and designer
Ori Elon-Writer and Creator of "Shtisel"
Yavilah McCoy-Educator and Activist and CEO of DIMENSIONS
Rabbi Elliot Cosgrove-Rabbi, Park Avenue Synagogue
Elan Carr-Special Envoy to Monitor and Combat Anti-Semitism, US State Department
Ed Asner-Emmy Award Winning Actor and Activist
Melissa Manchester-Grammy Award Winning Singer/Songwriter
Dan Pallotta-American entrepreneur, author, and humanitarian activist
Bishop John Taylor-Bishop of the Los Angeles in the Diocese of Los Angeles of The Episcopal Church.
Hedy Orden-Philanthropist