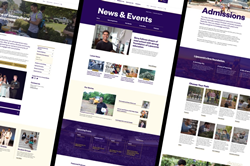 "Working with a partner who really understands where we're going was just exceptional for us," said Kyle Gregory, Former Director of Digital Marketing at Lipscomb University
CHICAGO (PRWEB) December 09, 2019
The W³ Awards celebrates digital excellence by honoring outstanding websites, web marketing, video, mobile sites/apps, and social content created by some of the best interactive agencies, designers, and creators worldwide.
Two mStoner clients are honored with three Silver award wins in 2019.
Lipscomb University received two Silver awards in the General Website Categories‐School/University for the university's main website (https://www.lipscomb.edu) and Online site (https://www.lipscomb.edu/online).
Lipscomb University wanted to move their main site to a program‐first page model which required a heavy lift. With more than 300 programs to present and not much existing content for each aside from course descriptions, Lipscomb and mStoner arrived at a content strategy and design that standardized the individual program pages.
In terms of performance, bounce rates are down while time‐on‐site and pages per visit metrics are increasing. Having never attempted anything on this scale before, the Lipscomb team says it has been a game‐changer in terms of their marketing and communications clout, as well as their team dynamic. They are delivering great results on a number of other important strategic projects, in addition to the high‐quality products of this undertaking.
"Working with a partner who really understands where we're going was just exceptional for us," said Kyle Gregory, Former Director of Digital Marketing at Lipscomb University
The Mendoza College of Business at the University of Notre Dame also received a Silver award in the General Website Categories‐School/University for their main site (https://mendoza.nd.edu).
About mStoner, Inc.
mStoner, Inc. is a creative agency that builds elegant, creative, and effective solutions to your greatest digital challenges. We craft powerful, tailored, human-centric experiences to illuminate your brand and allow you to tell the story only you can tell. We connect you with the right audience at the right time so you can form right-fit relationships. We position your team for improved productivity, sustainable growth, internal alignment, and proof-positive success. And we aim to make your job fun again and help you create inspired work that you are proud to show off. Since 2001, we've worked with more than 350 colleges, universities, and professional schools in the U.S. and abroad. For much more, visit our website at mStoner.com.