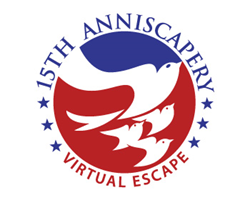 The 15th Anniscapery virtual re-enactment of Lucas and her sons' 10,000 mile escape hopes to raise $10 a mile, $100,000 to help Americans abused overseas"
Portland, Oregon (PRWEB) April 01, 2014
Paula Lucas never imagined that as an American she would find herself and her American children abused and trapped in a foreign country. "I had to strategically plan our escape from Dubai back to the USA, knowing if I was caught my husband would kill me, and possibly my three young sons, aged 4, 6 & 8." Lucas recounts her arduous 10,000 mile escape to safety. "I was terrified lying my way through passport control. It was illegal to leave the country without my husband's permission. Lugging two suitcases with three small boys in tow on a 12 hour international flight, a bus and a three day journey on Amtrak from New York to Portland I thought I would collapse from exhaustion, but I was never so happy to be home, safe in the USA."
While homeless and living in a domestic violence shelter in Oregon in 1999 Lucas founded the Americans Overseas Domestic Violence Crisis Center, AODVC, to help others.
Since then, the organization, including the Sexual Assault Support & Help For Americans Abroad Program, SASHAA, has provided life-saving services to over 5000 American women and children, and dozens of American men, experiencing domestic violence, child abuse and sexual assault in 110 foreign countries.
AODVC and SASHAA serve the 7.6 million American civilians residing overseas, the 65 million Americans that travel overseas annually, and the 1.1 million American military & their dependents overseas. The organization's holistic, global safety-net for Americans suffering with abuse and sexual assault overseas operates 24 hours a day, 7 days a week and includes an international toll free hotline, 866-USWOMEN, live chat, crisis email, safety planning, case management, resettlement services, counseling and cash assistance for emergency needs.
The 15th Anniscapery virtual re-enactment of Lucas and her sons'10,000 miles escape as a fundraiser hopes to raise $10 a mile, $100,000, to help Americans abused overseas from April 1st through May 30th, 2014.Visit http://www.866uswomen.org/anniscapery.
About Paula Lucas
Lucas is the leading expert in the USA on issues that face Americans abused overseas. She has appeared on the Today Show, Reader's Digest Magazine, and other media. The first chapter of her memoir, "Harvesting Stones, An American Woman's International Journey of Survival" is available for free. http://www.harvestingstonesbook.com.