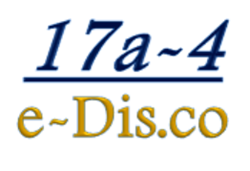 ...a key tool to more effectively manage corporate knowledge and mitigate risk.
Millbrook, NY (PRWEB) October 30, 2013
1. Manage all your information in one location.
Corporations use many different types of e-messaging (email, IM, wikis, blog posts, collaboration platforms) to conduct business. An archive allows for integration and normalization of these forms of information so that all unstructured content is available for appropriate search and data mining. Archives offer a single point of entry through which all data can be managed which compliance and IT can leverage to implement policies for retention and disposition.
2. Early-case assessments and Supervision.
There is increasing pressure on organizations to be aware of how business is being conducted. Compliance and legal need an easy way to search and find potential issues for which an early response or corrective course will minimize legal, HR and regulatory risk. Archiving policies can be applied universally or customized for specific employees. Compliance and IT can take advantage of an archive's supervisory systems to identify users that are not complying with corporate policy. Optimized supervisory systems also give Compliance the ability to review messages quickly and efficiently with various sampling, tagging and lexicon matching options. Many institutions, for instance, supervise new employee's outgoing emails to make sure that they are representing the products and services of the institution in an appropriate and accurate manner.
3. Discover what you need…fast.
Archives fully-index attachments and meta-data associated with e-messaging and social media content. This provides legal and compliance with powerful tools including wild cards, proximity and Boolean search options. Discovery capabilities allow compliance officers to respond to regulatory requests and legal matters in a defensible and timely manner. Next generation archival technologies support semantic and contextual searching. Users may also leverage the archive for all forms of communications and collaborations with a customer. A single point for all content with powerful search technologies will help users work 'smarter' and more effectively.
4. Protect and build your corporate knowledge base.
Record authenticity (preservation of a record in its original state) is a key requirement in content regulations. Without regulating information access, business-critical intelligence can be manipulated, erased, exposed or otherwise misused by an employee or outside party. Archiving software, installed behind the corporate firewall, uses role-based, password-protected archive access. Encrypted archive storage, and 'restricted' zones with programs that include access restriction features can all be leveraged to protect data. Search and management tools provide users throughout the organization access to data at appropriate levels.
5. Reduce the size of the information store and get rid of server bloat.
Exchange or Domino servers become bloated repositories of old, unnecessary communications negatively affecting overall efficiency of e-mail systems by demanding time and resources to backup records that are no longer useful. Administrators try imposing mailbox limits or forcing users to save locally, but this barely eases the growing volumes of data. Taking advantage of the archive compliance copy of data allows institutions to delete everything on the server after a specified time period and require users to search for older items in the corporate archive. Maintaining a manageable information store with disposal policies for records that are no longer useful reduces network backup time, hardware requirements and media costs.
About 17a-4 llc:
17a-4 llc is an e-messaging compliance and litigation firm with a focus on technology development. Clients that are required to adhere to SEC, FINRA and CFTC regulations leverage 17a-4's expertise to ensure their information infrastructure is in compliance. 17a-4's DataParser™ is the leading e-messaging capture software supporting virtually all third party platforms (Microsoft Lync®, Cisco Jabber®, Bloomberg® etc.). 17a-4's architecture provides for a single-point in which all e-messaging content may be managed for retention, legal/regulatory holds and e-Discovery productions. For more information, contact sales(at)17a-4(dot)com, call (212) 949-1724 or visit http://www.17a-4.com. E-discovery services are handled by 17a-4's e-Dis.co division. 17a-4 and e-Dis.co are based in New York City but operate remote offices nationwide.
All product and company names herein may be trademarks of their registered owners.