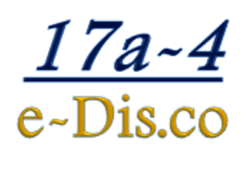 Data feeds, instant messaging, database content, document management platforms and now trading systems can all be captured and controlled using the DataParser.
Millbrook, NY (PRWEB) October 22, 2013
17a-4 llc has released a new module of their DataParser software for compliance to capture Squawker, a block trading platform. 17a-4 designs and implements compliance software for institutions required to comply with SEC, FINRA, FSA, FCA or other domestic and international regulations. Over 300 institutions worldwide use 17a-4's DataParser to archive their messaging and communication systems including Bloomberg, Cisco Jabber, Microsoft Lync, SharePoint and more. Squawker's trading platform is now a supported interface.
Squawker Ltd is head-quartered in London and is authorized and regulated by the UK's Financial Conduct Authority (FCA). Squawker's trading platform provides a central venue for anonymous negotiation and execution of institutional block trades. It's an electronic communication environment with social networking principles; to give control of the trading process to the user, from liquidity discovery through to negotiation and trade execution.
The DataParser for Squawker downloads the daily transcript log of communications and splits it into data sets organized by the "Interest ID" specific to the trade. The data sets are then matched to the all participants involved from the initial interest through the transaction. The data is formatted into an email and ingested into the archive, with all relevant and regulated content included.
The DataParser software was developed in 2005 to capture third party messaging content for format and ingestion into an institutional archive. The DataParser's lightweight, streamlined structure enables easy module development. This allows 17a-4 to quickly develop solutions in a timely manner allowing financial and other cross industry organizations to address the shifting regulatory landscape. Data feeds, instant messaging, database content, document management platforms and now trading systems can all be captured and controlled using the DataParser.
"We continue to expand the DataParser's functionality to provide a comprehensive solution to manage the varied data sources that regulated institutions are required to retain," says Curt Robinson, CTO 17a-4 llc.
As a middle-ware software product, the DataParser integrates easily into many different archive architectures and configurations. Typical on-premise archives include EMC's SourceOne and Symantec's Enterprise Vault. Common cloud archive integrations include Autonomy's ACA, Global Relay and Smarsh.
About 17a-4 llc:
17a-4 llc is an e-messaging compliance and litigation firm with a focus on technology development. Clients that are required to adhere to SEC, FINRA and CFTC regulations leverage 17a-4's expertise to ensure their information infrastructure is in compliance. 17a-4's architecture provides for a single-point in which all e-messaging content may be managed for retention, legal and regulatory holds and e-Discovery productions. For more information on the DataParser please contact sales(at)17a-4(dot)com, call (212) 949-1724 or visit http://www.17a-4.com. E-discovery services are handled by 17a-4's e-Dis.co division. 17a-4 and e-Dis.co are based in New York City but operate remote offices nationwide.
All product and company names herein may be trademarks of their registered owners.