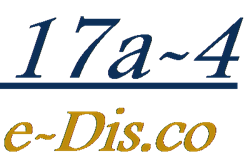 ...new release of the DataParser adds functionality for Microsoft's SharePoint 2013 and SQL 2012...
Millbrook, NY (PRWEB) December 31, 2013
17a-4's latest version of the DataParser supports SharePoint 2013 and SQL 2012. The DataParser software captures and formats data streams, IM/text messaging and database content for archive ingestion. It integrates easily into in house or outsourced archives, to leverage existing client infrastructures for regulation compliance.
Three regulations of the Securities & Exchange Commission ("SEC") describe the requirements for retention of electronic financial records. For broker/ dealers, it is Rule 17a-4 of the Securities Exchange Act of 1934, for registered investment advisors, it is Rule 204-2 of the Investment Advisors Act and for mutual funds, it is Rule 31a of the Investment Company Act of 1940. Though the requirements of each of these rules vary, the intent is the same: the records must be preserved so as to maintain the integrity of the original record. Records that are kept on SQL databases (blotters, stock records, etc.) or on SharePoint do not intrinsically provide adequate proof that the record hasn't changed or adequate legal 'chain of custody.' Yet, SQL and SharePoint have become very common platforms used by financial institutions to retain corporate records.
The new release of the DataParser adds functionality for Microsoft's SharePoint 2013 and SQL 2012 to:
•Insure that SQL and SharePoint records are captured in timely and defensible manner;
•Maintain 'chain of custody' between the SQL or SharePoint database and appropriate SEC archive;
•Provide audit and operational data of the collection and ingestion process.
"Compliance departments are often confused whether records kept on SharePoint and SQL are compliant with existing SEC regulations," says Charles Weeden, Managing Partner of 17a-4, "One client, for instance, believed that its orders and execution records which were maintained in a SQL database were fully-compliant with SEC regulations. Inherently, SQL does not have the ability to preserve and maintain records and provide chain-of-custody information sufficient to comply with Rule 17a-4 and other regulations."
17a-4's software products are designed to meet the regulatory and e-Discovery needs of institutional clients. The DataParser is a leading middle-ware product that integrates easily into many different archive architectures and configurations. It's designed to work with in house or outsourced archives to leverage existing infrastructures. Typical on-premise archives include EMC's SourceOne™, Symantec's Enterprise Vault™ Barracuda™ and CommVault™. Common cloud archive integrations include Autonomy's ACA™, Smarsh and Symantec_Cloud™. Clients can now request the latest version for testing.
For more information on the DataParser please contact sales(at)17a-4(dot)com, call (212) 949-1724 or visit http://www.17a-4.com.
About 17a-4 llc:
17a-4 is a compliance services and software company with a focus on e-messaging and software solutions to meet regulatory and e-Discovery needs of institutional clients. Clients that are required to adhere to SEC, FINRA and CFTC regulations leverage 17a-4's expertise to ensure their information infrastructure is in compliance. 17a-4's architecture provides for a single-point in which all e-messaging content may be managed for retention, legal and regulatory holds and e-Discovery productions. E-discovery services are handled by 17a-4's e-Dis.co division. 17a-4 and e-Dis.co are based in New York City but operate remote offices nationwide.
All product and company names herein may be trademarks of their registered owners.