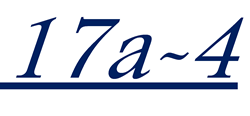 The FactSet module is part of the continuing effort by 17a-4 to support the communication systems preferred by regulated clients.
Millbrook, NY (PRWEB) July 30, 2014
17a-4's DataParser software for messaging compliance now supports FactSet Instant Messenger (IM). 17a-4's software allows institutions to take advantage of communication and collaboration systems while still adhering to regulatory guidelines. The DataParser is 17a-4's leading software product to manage messaging and database systems for archival ingestion. FactSet is a multinational financial data and software company headquartered in Norwalk, CT and a leading provider of financial information and analytic applications to investment professionals around the globe. The FactSet IM module of the DataParser is now available for testing and installation.
The DataParser is a lightweight, middle-ware product that integrates easily into various archive architectures and configurations. Clients can leverage the DataParser in conjunction with their archive, whether in house or hosted, to become compliant with SEC, FINRA or corporate policy and procedure. It connects to the source of data, or the database associated, to access the messaging content and apply formatting to correspond to the destination archive currently in use. This allows a single point for IT and Compliance to manage regulated communications for e-discovery, retention and disposition. The FactSet IM platform is fully integrated within the FactSet workstation, letting users share news, charts, identifiers, and other financial data components while they send/receive messages, project/receive presence, and manage contacts. FactSet IM features include; message previews, blast messages, tabbed conversations, and persistent group chat functionality to efficiently share ideas.
The DataParser supports Lync, Jabber, Bloomberg, Reuters and most other IM and Chat platforms. The FactSet module is part of the continuing effort by 17a-4 to support the communication systems preferred by regulated clients.
"Having developed many of these interfaces for our clients," offers Curt Robinson, Chief Technology Officer, "we have an architecture that allows us to very quickly create a new module customized for the data source, while creating a consistent email or XML record that may be ingested into any archive."
For more information on the DataParser for FactSet IM email sales(at)17a-4(dot)com, call (212) 949-1724 or visit http://www.17a-4.com.
About 17a-4 llc:
17a-4 is a compliance services and software company with a focus on e-messaging and software solutions to meet regulatory and e-Discovery needs of institutional clients. Clients that are required to adhere to SEC, FINRA and CFTC regulations leverage 17a-4's expertise to ensure their information infrastructure is in compliance. 17a-4's architecture provides for a single-point in which all e-messaging content may be managed for retention, legal and regulatory holds and e-Discovery productions. E-discovery services are handled by 17a-4's e-Dis.co division. 17a-4 and e-Dis.co are based in New York City but operate remote offices nationwide.
All product and company names herein may be trademarks of their registered owners.