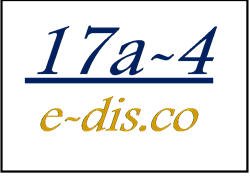 ...a lightweight, middle-ware product that integrates easily into many different archive architectures and configurations.
Millbrook, NY (PRWEB) May 14, 2014
17a-4's DataParser software for messaging compliance now supports Pivot's IMTRADER. Pivot Inc., a CME Group company, is recognized as the preferred communications network for buy and sell-side market participants seeking an unprecedented competitive advantage. 17a-4 develops software for compliance to allow institutions to take advantage of communication and collaboration systems while still adhering to regulatory guidelines. The DataParser is 17a-4's leading software product to manage message and database systems for archival ingestion.
The DataParser connects to the source of data, or the database associated, to access messaging content and then format the content to normalize to the archive currently being used for email. This allows a single point for IT and Compliance to manage regulated communications for e-discovery, retention and disposition. Pivot's IMTRADER turns instant messaging conversations into transactions that flow into an order management system and integrate with security and compliance. With IMTRADER functionality, users can leverage structured messaging integrated with the FIX protocol to automate IM trade entry and execution. The DataParser is a lightweight, middle-ware product that integrates easily into many different archive architectures and configurations. Clients can leverage the DataParser in conjunction with their archive, whether in house or hosted, to become compliant with SEC, FINRA or corporate policy and procedure.
"Having developed many of these interfaces for our clients," offers Curt Robinson, Chief Technology Officer, "we have an architecture that allows us to very quickly create a new module customized for the data source, while creating a consistent email or XML record that may be ingested into any archive."
For more information on the DataParser for Pivot IMTRADER, email sales(at)17a-4(dot)com, call (212) 949-1724 or visit http://www.17a-4.com.
About 17a-4 llc:
17a-4 is a compliance services and software company with a focus on e-messaging and software solutions to meet regulatory and e-Discovery needs of institutional clients. Clients that are required to adhere to SEC, FINRA and CFTC regulations leverage 17a-4's expertise to ensure their information infrastructure is in compliance. 17a-4's architecture provides for a single-point in which all e-messaging content may be managed for retention, legal and regulatory holds and e-Discovery productions. E-discovery services are handled by 17a-4's e-Dis.co division. 17a-4 and e-Dis.co are based in New York City but operate remote offices nationwide.
All product and company names herein may be trademarks of their registered owners.