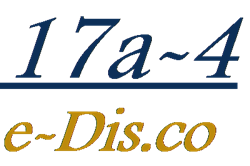 ...DataParser for Reuters Eikon downloads the users' messages from Eikon Messenger and integrates the chat data with attachments into an email format...
Millbrook, NY (PRWEB) January 29, 2014
17a-4 is now developing their DataParser® software to support Thompson Reuters Eikon Messenger® product. Thomson Reuters Eikon Messenger connects financial professionals and allows them to share messages, live data, charts and analytics via a highly secure network. The DataParser is software designed for compliance as a cost-effective solution to capture data from many sources and apply formatting to correspond to an existing email archive. The DataParser manages the ingestion of that content into the archive and creates a single point of compliance management, discovery and supervisory procedures.
The new build of the DataParser for Reuters Eikon downloads the users' messages from Eikon Messenger and integrates the chat data with attachments into an email format for archival ingestion. The DataParser tracks and validates downloaded data, as well as archives transcripts of source data. The export to an archive system can be in standard EML file format or in the Microsoft Envelope Journal format, and delivered via Exchange Web Services or SMTP.
"We've seen a dramatic increase in the interest from our client base of over 400 financial institutions to use messaging platforms like Eikon to either communicate internally or in conjunction with products such as Markit®'s Collaboration Services," offers Charles Weeden, Director of Compliance. "Our DataParser development efforts will make sure that these messages are brought into a client's archive and retained in such a way to insure production integrity from a regulator such as the SEC, FINRA or the CFTC. Every archive technology has different metadata properties and requirements and when we install the DataParser, we will configure so that compliance and legal teams may easily retrieve messages for the appropriate custodians."
17a-4' s software products are designed to meet the regulatory and e-Discovery needs of corporate clients. The DataParser is a leading middle-ware product that integrates easily into many different archive architectures and configurations.
For more information on the DataParser please contact sales(at)17a-4(dot)com , call (212) 949-1724 or visit http://www.17a-4.com .
About 17a-4 llc:
17a-4 is a compliance services and software company with a focus on e-messaging and software solutions to meet regulatory and e-Discovery needs of institutional clients. Clients that are required to adhere to SEC, FINRA and CFTC regulations leverage 17a-4's expertise to ensure their information infrastructure is in compliance. 17a-4's architecture provides for a single-point in which all e-messaging content may be managed for retention, legal and regulatory holds and e-Discovery productions. E-discovery services are handled by 17a-4's e-Dis.co division. 17a-4 and e-Dis.co are based in New York City but operate remote offices nationwide.
All product and company names herein may be trademarks of their registered owners.