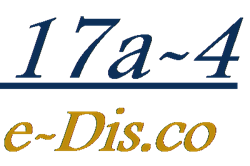 ...the leading hyperlinked disclaimer service that's fully compliant with a broad range of regulatory requirements.
Millbrook, NY (PRWEB) January 22, 2014
17a-4 llc is discounting rates for their e-Disclaimer™ solution, the leading hyperlinked disclaimer service that's fully compliant with a broad range of regulatory requirements and legally defensible in court. Up to 50% discounts are being offered for multi-year service agreements. 17a-4's e-Disclaimer provides the legal protection required for corporate emails, removes the burden to archival storage and offers the solution to erroneously flagged content.
Virtually all institutions enact some form of an email disclaimer. While a disclaimer does well to protect the rights and responsibilities of the sender, it can also prove burdensome to Compliance and IT. The language of a given email disclaimer (i.e. confidential, privacy, guarantee) can result in unnecessary flagging by supervisory systems used in legal reviews and productions, thus increasing the time and expense of an e-discovery. As well, all of the flagged content is being retained in the archive at a considerable cost; some estimates say disclaimers can account for nearly 15% of archival space. A hyperlinked solution, like 17a-4's, eliminates the flagging and retention of these items in the archive.
Another important element to 17a-4's solution addresses legal and regulatory requirements for institutions implementing hyperlinked e-disclaimers, particularly the defensible authentication of the linked connection. Many of the current hyperlinked disclaimers being used in corporate e-messaging cannot provide the required authentication and, as a result, are not legally enforceable. If an organization simply deploys a hyperlink to a webpage with a full disclaimer, they have probably failed to authenticate the connection. There is no verifiable proof that, at the time of the email, the specific disclaimer was valid and linked. The legality of the disclaimer is negated unless each e-message can be proven to connect to a specific e-disclaimer, as it reads at the time of attachment. So, in an attempt to address archival and discovery issues, companies have created disclaimers that are no longer compliant. 17a-4's solution proves the integrity of the hyperlink by managing a repository on behalf of clients. The repository contains all disclaimers used by an institution, including multi-lingual and conditional variations such as e-messaging and social networking disclaimers.
"Since many of our e-Disclaimer clients request extensions to the e-Disclaimer service, we've put together these multi-year agreements at discounted rates." says Charles Weeden, Executive Director of Compliance Services at 17a-4 llc. "In conjunction with the lower pricing, we are also offering new clients an assessment of their current e-Disclaimer process. Many institutions don't realize that their disclaimers are not legally enforceable as there is no 'chain of custody' for the hyperlink. Too often, there is no a hash code verifying the disclaimer language at the time of the email and no third party that can testify as to the disclaimer, if necessary, in litigation. Unfortunately, a poorly managed disclaimer is worse than no disclaimer."
For more information on e-Disclaimer call (212) 949-1724 or email sales(at)17a-4(dot)com.
About 17a-4 llc:
17a-4 is a compliance services and software company with a focus on e-messaging and software solutions to meet regulatory and e-Discovery needs of institutional clients. Clients that are required to adhere to SEC, FINRA and CFTC regulations leverage 17a-4's expertise to ensure their information infrastructure is in compliance. 17a-4's architecture provides for a single-point in which all e-messaging content may be managed for retention, legal and regulatory holds and e-Discovery productions. E-discovery services are handled by 17a-4's e-Dis.co division. 17a-4 and e-Dis.co are based in New York City but operate remote offices nationwide.
All product and company names herein may be trademarks of their registered owners.