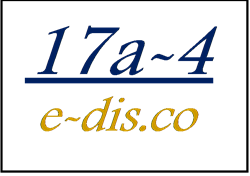 a simple and cost-effective platform for managing research report approvals and distribution as well as complying with the retention requirements of SEC Rule 17a-4.
Millbrook, NY (PRWEB) June 25, 2014
By adopting Rule 15a-6, the SEC provides, among other terms, a mechanism for the distribution of foreign-broker-dealer research reports. However, managing the flow of incoming research reports, supporting the review and approval process and retaining those reports as required by SEC Rule 17a-4 requires a work-flow system which:

Allows a foreign broker to email a research document to a hosted email address
Automatically adds the report to an SEC 17a-4 retention library
Generates an alert to be sent to a principal at the chaperoning broker-dealer
Allows the principal to review the research report and approve a copy to be moved to an approved SharePoint research library
Enables clients of the chaperoning broker-dealer to receive alerts and download new research reports into their in-house research systems
Results in content that can be expire based on retention periods
In partnership with the Law Department Desktop (http://www.lawdepartmentdesktop.com), 17a-4 has built the SEC Compliance DeskTop using a cloud-based SharePoint hosted at Rackspace®. "We will continue to build more work-flow functionality into the DeskTop," adds Charles Weeden, Managing Partner of 17a-4, "and in the next release we plan to incorporate compliance review functionality for outside business activities ("OBA Reports").
For more information, please visit http://www.17a-4.com or call (212) 949-1724.
About 17a-4 llc:
17a-4 is a compliance services and software company with a focus on e-messaging and software solutions to meet regulatory and e-Discovery needs of institutional clients. Clients that are required to adhere to SEC, FINRA and CFTC regulations leverage 17a-4's expertise to ensure their information infrastructure is in compliance. 17a-4's architecture provides for a single-point in which all e-messaging content may be managed for retention, legal and regulatory holds and e-Discovery productions.
About Law Department Desktop, llc:
The DeskTop is a suite of SharePoint workproduct templates and workflows which allow collaboration and communication between corporate law departments and outside counsel. Law firms are able to build highly-customized sites which allows for cost-effective, efficient resource allocation, libraries and task lists. The most popular 'DeskTops' are: Litigation, Insurance, Leasing, Employment and SEC Compliance.
All product and company names herein may be trademarks of their registered owners.