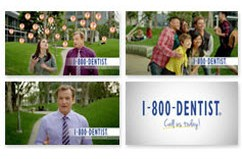 Our goal is to help dentists grow their practices by motivating consumers to make oral health a priority.
Los Angeles, CA (PRWEB) June 05, 2014
1-800-DENTIST®, the dental profession's premier new patient lead-generation program, has released a new ad campaign targeting the millions of American consumers who are in search of a dentist. The series of 30- and 15-second commercials feature company founder Fred Joyal and are designed to motivate more patients to call right away to find a local dentist.
The five new spots highlight the importance of going to the dentist and how 1-800-DENTIST offers consumers the easiest, most reliable way for consumers to find one they'll love. The commercials explain that 1-800-DENTIST takes the guesswork out of the selection process and can personally match consumers to the right dentist by a variety of key factors, including the patient's dental insurance plan. Since the spots began airing in March, 1-800-DENTIST has seen a great response with record numbers of consumers calling to be matched with one of the company's member dentists.
"Our goal has been helping dentists grow their practices by motivating consumers to make oral health a priority," said Michael Turner, the CEO of Futuredontics, 1-800-DENTIST's parent company. "These new commercials do a great job of getting that message out."
The new commercials are part of 1-800-DENTIST's $50 million annual consumer advertising campaign, appearing on primetime network and cable television, as well as promoting 1-800-DENTIST's service in new online marketing sources and through social media.
Since its founding in 1986, 1-800-DENTIST has personally matched over 8 million patients to dentists. Last year alone, it helped participating dental practices generate over $200 million in production.
1-800-DENTIST's new TV ad campaign can be seen at: http://www.1800dentist.com/2014commercials/.
Dentists can learn more about the 1-800-DENTIST new patient lead program by calling 1-877-906-9704.
About Futuredontics®
Futuredontics®, parent company of 1-800-DENTIST®, is America's leading provider of dental marketing services & software. Since 1986, the company has been dedicated exclusively to dentistry, developing powerful products and resources that help dentists thrive in the evolving digital world.
The company's flagship product, 1-800-DENTIST, has delivered over 7 million new patient leads to dental practices nationwide. PatientActivator®, their patient communications and online marketing solution, increases production and boosts the practice's online presence with automated appointment confirmations and tools for social media, reviews and much more. ReputationMonitor® helps dentists protect their online reputation – monitoring hundreds of directories, reviews sites and social media platforms, and displaying them all on a single screen. WebDirector® delivers dynamic websites, mobile sites and branded social pages all for one low price. And ReActivation Pro® gets dormant patients back on the practice's schedule. Futuredontics also offers an extensive library of dental marketing resources – including in-depth whitepapers, Webinars and front desk training. With unlimited live customer support, dentistry's best marketing products and the largest dental website in North America, Futuredontics is the proven way for dental practices to grow their patient base and increase production year after year.
Contact: Betsy Roddy, Futuredontics, 310-215-6535