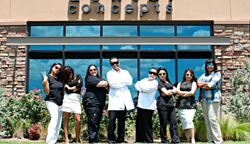 October is Breast Cancer Awareness month, The Susan G. Komen Foundation Race for the Cure®.is a big event for us every year
Irving, TX (PRWEB) October 18, 2016
The Dental Concepts Care team is committed to support the world's largest breast cancer organization, the Susan G. Komen Foundation and the Race for the Cure®.
Dr. Nirav Patel, Nisha, Riva, and Katy from the Dental Concepts Care office walked the 5K. Patients also came out and participated. The Dental Concepts Care team was there, pumped up and ready to go at 6:30 AM and the race kicked off at 8:00 AM. Thousands of survivors and supporters came out there to help the cause.
"October is Breast Cancer Awareness month, The Susan G. Komen Foundation Race for the Cure®.is a big event for us every year," said Dr. Patel.
Breast cancer survivors were honored and attendees walked a 5K to raise money for the Susan G. Komen Foundation. The Susan G. Komen Foundation funds breast health services for medically underserved residents and research. Thousands of people participated.
The first-ever Susan G. Komen Race for the Cure was held in 1983. In the last five years, the local Susan G. Komen Foundation has helped fund $8.26 million for no-cost or low-cost breast cancer services and $2.85 million in national research. According to the organizations statistics, nearly 27 cases of breast cancer will be diagnosed every week and about five people will die from breat cancer each week.
This race raised over $655,959.69, check http://komen-dallas.org for updates
The Susan G. Komen® promise is to save lives and end breast cancer forever by empowering people, ensuring quality care for all and energizing science to find the cures.
Susan G. Komen Dallas County
5310 Harvest Hill Road, Ste. 120
Dallas, Texas 75230
214-750-7223
info(at)komen-dallas.org
ABOUT DENTAL CONCEPTS CARE provide preventive dentistry for maintaining healthy teeth and gums, cosmetic dentistry for your beautiful "Smile Makeover" and restorative dentistry to repair your teeth and smile.
Dental Concepts Care
7423 Las Colinas Blvd, Suite 101
Irving, Texas 75063
http://www.dentalconceptscare.com
972-869-2273
Info(at)DentalConceptsCare.com
https://www.facebook.com/dentalconcepts
https://twitter.com/dconceptscare
https://www.linkedin.com/in/niravpateldds