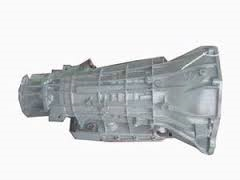 The automatic and manual transmission units that Ford has produced over the past 30 yeas have featured both standard and electronic controls to improve the torque and shifting in vehicles
Cincinnati, OH (PRWEB) October 22, 2013
The Explorer by Ford remains in production in the U.S. as part of the SUV series first launched in the 1990s. The transmissions that are used in this vehicle series can now be purchased by a top gearbox company online. The Got Transmissions company is now offering 1996 Ford Explorer transmission units to buyers and is attaching a special price for each unit at http://www.gottransmissions.com/blog/ford-transmissions/1996-ford-explorer-transmission.
These 4R55E transmissions were used exclusively during the 1995 and 1996 years to showcase the electronics technology now offered in the automatic Ford transmission series.
The prices that are now offered for these used condition units is expected to remain at the current levels as demand increases for replacements online. The GotTransmissions.com search tool online now displays the prices that are being offered.
"The automatic and manual transmission units that Ford has produced over the past 30 yeas have featured both standard and electronic controls to improve the torque and shifting in vehicles," said a source for the GotTransmissions.com company.
The 4R55E and 5R55E units that have been used in the Explorer can be hard to locate through secondary sellers in some parts of the U.S. The wear and tear that a standard vehicle can have can affect the quality of the parts used inside a gearbox. The Got Transmissions company has taken steps this year to improve its quality by upgrading its policies for warranties.
"The Explorer transmission units that we've now discounted are packaged with our dedicated warranty plans for no extra cost as our way of helping buyers who plan to install or resell a unit," the source added.
The GotTransmissions.com sale pricing and delivery incentives that are found on the company website can now be accessed daily using the search tools created for the public to use. The search system now features quotation tools and inventory status information to reduce or eliminate the customer service phone calls to the company staff at 1-866-320-1182.
About GotTransmissions.com
The GotTransmissions.com company retails replacement transmissions that are in above average condition and warranted against the most common defects in the secondary parts industry. The company staff actively participates in the acquisition efforts that are put forth by this company annually. The GotTransmissions.com company supplies its consumers purchasing the company inventory with incentives for shipping and other ways to reduce the purchase price of a replacement transmission. The expanded inventory of foreign and American built gearboxes featured online are part of the new upgrades announced for customers in 2013.