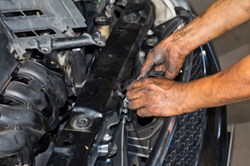 The Escort is one of the smaller Ford Motor Company vehicles that is now supported for replacement car engines at our website
Raleigh, NC (PRWEB) April 26, 2015
The Ford Escort was built in the U.S. between 1981 and 2003 in the United States and was one of the most successful compact vehicles. One of the popular motor displacements featured in Ford vehicles was the I4 CVH build. The PowertrainGuys.com company is now selling 1.9L Ford Escort used engines as part of its products on sale at http://powertrainguys.com/1-9-ford-escort-engine.
The 121 cubic inch I4 engines that are now on sale at the PTG website are compatible with the 1983 to 1996 versions of the Escort. These inline blocks are taken straight out of the inventory at national salvage yards and are inspected for quality. The stock levels for the CVH builds are expected to grow in size throughout this year.
"The Escort is one of the smaller Ford Motor Company vehicles that is now supported for replacement car engines at our website," said one Powertrain Guys source.
The 1.9-liter blocks that are now listed for a discount price this year have joined the 2.0-liter Duratec series in the 4-cylinder inventory at the PowertrainGuys.com website this month. An earlier announcement for the Duratec series was made to alert the public about what builds are shipping for the remainder of the year.
"We're now adding more of the now classic compact car motors built by Ford and rival automakers to our stock levels for consumers to buy," said the source.
The Powertrain Guys company has secured new third-party warranty protection from its distributions for the motor blocks that are shipping in the U.S. A revision to the standard parts plans now extends the total level of protection to a period of 24 months for most used inventory listed for sale.
About PowertrainGuys.com
The PowertrainGuys.com company is one of the leading supplier network websites on the Internet that provides sale priced motors and gearboxes to consumers. The company is now promoting the in stock inventory of its nationwide partners on its website. The PowertrainGuys.com company advertises an inventory for used, rebuilt and new condition components that are distributed with full warranty policies in the U.S.