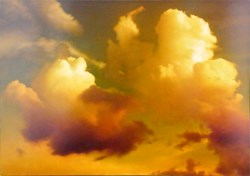 Charlotte, NC (PRWEB) January 08, 2014
McColl Fine Art announced that artist Ian Marion will be featured during the month of January.
Marion specializes in cloudscapes and landscapes. His Cloudscape Series reflects his desire to capture the spectacular, yet often-overlooked, beauty of omnipresent skies. These paintings maintain a representational appearance while integrating non-traditional spatial relationships. In his Cloudscape paintings, Marion integrates an added sensitivity to color and strives to allow the viewer to better appreciate ephemeral, natural images.
Marion's Imaginary Sublime Landscape series, although still in its infancy, reflects his admiration for the ideological reasoning behind the American sublime and Romantic landscape movements, as well as the manifestation of these grandiose ideas onto canvas. Throughout all of his work, his intention is to provide a romanticized vision of nature that challenges viewers to rethink not only their views of the natural world, but also their connection to it.
McColl Fine Art is showing Marion's work at the McColl Fine Art gallery, located at 126 Cottage Place in Charlotte, NC. Visit them from 10 a.m. to 6 p.m. Tuesday through Friday or from 10 a.m. to 3 p.m. Saturday. Marion's work will also be shown at the LA Art show at the LA Convention Center/South Hall J and K in the McColl Fine Art booth. The show will run from 11 a.m. to 7 p.m. Jan. 16-19.
About the company:
McColl Fine Art is one of the premier fine art galleries in the country. Located at 126 Cottage Place in Charlotte, NC, McColl Fine Art specializes in fine American and European paintings with a primary focus on 19th century art and select works from the early 20th century, as well as Classical Contemporary works of art. They offer works of exceptional quality from periods including the Barbizon School, the Hudson River School, Academic painting, Impressionism and Post-Impressionism. For an experience unlike many other art galleries, please visit their website at http://www.mccollfineart.com for more information.