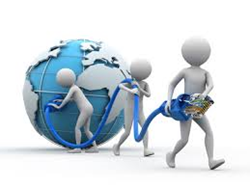 SolveForce was created with one thing in mind – to make business communication easier
(PRWEB) September 29, 2014
Coming up with solutions is what Solveforce does best. Instead of just giving all their customers the same exact service, they believe in finding custom solutions. Actually, that's why they decided to team up with more than two dozen different telecommunications & data providers. Being able to offer a variety of different options to the Sacramento market, consumers get to pick what's best – not just whatever seems to be the best. In the end, Sacramento consumers get the solution that's a perfect match for their needs, and Solveforce 1Gb Ethernet (http://1gbethernet.org) gets to take pride in a job well done.
1Gb Ethernet experts continue in their commitment by partnering with Solveforce, to bring the best 1Gb Ethernet tools available. 1Gb Ethernet claims that they will be there for consumers during all phases of service, from the partnership transition, decision making process for services, the application and credit approval process, the installation process, all the way through to the end of contract and eventual renewal of service. 1Gb Ethernet (http://1gbethernet.org) & Solverforce want Sacramento consumers to know they are committed in every aspect of the customer relationship.
About Solveforce Telecom & Data Consulting
1Gbethernet.org is managed by SolveForce, a Master Agency that offers its consulting services in Sacramento, and has been providing business solutions since 2004. They are recognized all over the globe as a private ethernet & telecom consulting agency that offers California advisory and auditing services for the telecommunications and Internet industry. Founded by Ron Legarski, this master agency has accomplished many awards and achievements. With high quality California telecom and Telecom Consulting solutions to offer, the company's future plans are to integrate even more cities and companies in their coverage areas and remain the leader in the telecom & internet solutions industry throughout California.
SolveForce.com, LLC can be reached at 888-765-8301 via toll free or visit one of their real-time quoting websites at http://www.solveforce.com/ca/.