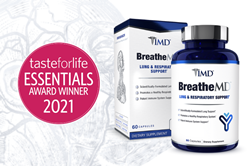 Empowering people to live healthier lives is the best reward we could ever receive, and this award from Taste for Life affirms that we are fulfilling our mission." said Ziv Haklili, Co-Founder of 1MD Nutrition and Scale Media
LOS ANGELES (PRWEB) November 23, 2021
1MD Nutrition™, a premium, physician-formulated nutritional supplements brand owned by Scale Media, has added to a growing portfolio of awards with its BreatheMD™ product recognition. A trusted industry source for natural supplements in health and wellness, Taste for Life awarded BreatheMD the 2021 'Immunity Essentials Award' in the Lung Support category. A comprehensive lung and respiratory support supplement, BreatheMD promotes antioxidant activity, respiratory system performance, immune system defenses, and better overall health. It combines South African Geranium, a break-through traditional herb known to help promote a healthy immune system and support proper lung function, with an additional eight botanicals, vitamins, minerals, and an amino acid.
BreatheMD was developed by 1MD Nutrition's product scientists in response to the increasing need to support lung and respiratory health in the United States, with a one-of-a-kind immunity and respiratory formula promoting lung function support. BreatheMD is recommended by Dr. Brian Greenberg, 1MD Nutrition's Immunologist with nearly 30 years helping patients of all ages maintain their respiratory and immune health.
"In my opinion 1MD Nutrition has developed a truly unique immune and respiratory system supplement," said Dr. Greenberg. "It contains proper dosages of African geranium, elderberry, L-cysteine, vitamin D, and vitamin C, that are complemented by the recommended daily allowance of zinc and chromium formulated to promote proper lung function, support and maintain the body's proper immune response, and help your body protect itself from seasonal threats."
BreatheMD's Taste for Life 2021 Immunity Essentials Award comes on the heels of 1MD's Nutrition's previous award for its LiverMD supplement, supporting the brand's expanded mission to help people live longer, healthier lives through the powerful integration of advanced science and nature.
"Empowering people to live healthier lives is the best reward we could ever receive, and this award from Taste for Life affirms that we are fulfilling our mission." said Ziv Haklili, Co-Founder of 1MD Nutrition and Scale Media. "These awards are also a testament to our dedication to continual review of new research on the latest technology, ingredient innovations, and consumer feedback to ensure our supplements provide real, powerful results."
To learn more about BreatheMD, visit 1md.org/product/breathemd.
About Scale Media:
Headquartered in Los Angeles, California, Scale is a tech-driven direct-to-consumer company that builds and deploys next-generation CPG brands in the beauty, health and wellness industries. Through their proprietary eCommerce and digital marketing engine, Scale transforms consumers' end-to-end online shopping experience while increasing brand loyalty and retention. Founded in 2013 by serial entrepreneurs Ben Flohr and Ziv Haklili, the company has rapidly powered and scaled concepts into multi-million-dollar consumer lifestyle brands, including 1MD Nutrition, Hair La Vie, Simple Beauty, Live Conscious, Tru Alchemy and Essential Elements. Today, Scale's growing portfolio of 70+ products helps hundreds of thousands of people live healthier lives. The company is recognized as a Forbes' Best Startup Employer for 2020, and is the 2020 recipient of the NBJ Leadership & Growth Award. Learn more about Scale and their house of brands at ScaleMedia.com.
Scale Inquiries: Nicole Khandhar, nicole.k@scale.tech
1MD Nutrition Inquiries: Jennifer Fontaine, jen.f@scale.tech