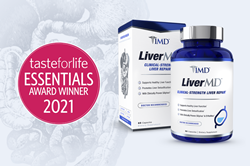 We are thrilled LiverMD was recognized by Taste for Life as a superior natural supplement to support liver health," said Co Founder Ziv Haklili
SHERMAN OAKS, Calif. (PRWEB) February 24, 2021
1MD Nutrition™, producer of physician-formulated, clinical-strength health supplements, and part of the Scale Media house of brands, announced today that its clinically-studied liver support supplement, LiverMD®, part of 1MD's fast-growing portfolio of over 20 clinically-studied products, won Taste for Life's 2021 Essentials Supplement Award for Best Liver Support, which recognizes the most outstanding natural supplements in health and wellness. Developed with a breakthrough formula to promote optimal liver health, LiverMD helps tens of thousands of Americans support their healthy liver function.
1MD product development and formulation scientist teams worked with leading Gastroenterologist, Doron Kahana, MD to create LiverMD, doctor-formulated liver support product containing patented, clinically-studied ingredients shown to promote optimal liver health. Star ingredient, EVNolMax®, backed by 20 years of clinical research and strongly substantiated by more than 20 published human studies, is combined with Siliphos® silybin phytosome, clinically proven to be 167 times more effective than generic milk thistle extract, plus four additional vital ingredients including, NAC, selenium, zinc, and alpha lipoic acid, to promote healthy liver function.
"We are thrilled LiverMD was recognized by Taste for Life as a superior natural supplement to support liver health," said Ziv Haklili, CoFounder of Scale. "At 1MD, we pride ourselves on pioneering the most therapeutic, clinically-studied health supplements on the market, and this award validates our efforts and propels us toward developing new doctor-formulated products, backed by proven scientific significance, statistical data, and positive indications for health."
About 1MD Nutrition:
1MD Nutrition is one of five next-generation consumer lifestyle brands powered by Scale Media, an award-winning, tech-driven company in the beauty, health and wellness sector. Their mission is to develop therapeutic, clinical-strength, physician-formulated health supplements that address America's gravest health concerns. 1MD's growing portfolio of 20+ clinically-studied products helps hundreds of thousands of people live happier, healthier lives. Learn more at 1md.org.
About Taste for Life:
Taste For Life aims to educate and motivate consumers to make informed purchasing decisions. Utilizing research and insights from industry experts, the magazine covers food and special diets, vitamins, minerals, supplements, herbs, homeopathy, natural food and beauty products, recipes and other products or modalities for overall wellness.
Scale Media Inquiries: Nicole Khandhar, Director of Operations, Scale Media, nicole.k@scale.tech
1MD Media Inquiries: Jennifer Fontaine, Creative Brand Manager, 1MD, jen.f@scale.tech