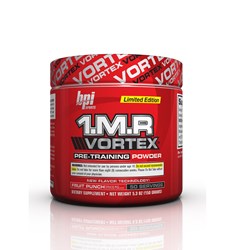 1MR VORTEX™ is an extreme pre-workout supplement gets the sweat pouring and adrenalin pumping.
Ft. Lauderdale, FL (PRWEB) November 13, 2013
While most companies are in the midst of closing out the year quietly, BPI Sports is doing just the opposite. The fastest growing sports nutrition company is busy creating a ton of buzz for its highly anticipated, soon to be released launch of 1MR VORTEX™ - the newest evolution of the pre-workout. The pre-workout segment may be perhaps the largest and fastest growing category in sports nutrition next to Protein. The upcoming release of 1MR VORTEX™ represents an enormous plug into a wide open field left barren by recent regulation and market saturation.
"The market has been crying out loud for another HUGE phenomenally successful floor to floor, all eyes forward pre-training powder," said National Sales Director, Christopher MacKenzie. "It is our belief that the VORTEX™ along with the household name of 1MR™ will do just that. This is definitely the most aggressive, performance based pre-training powder of its kind anywhere."
Compounded and engineered with three unique, new ingredients that have been blended and precisely measured to instigate an intense lift off like something from another universe, 1MR VORTEX™ has been carefully formulated to enhance and intensify the quality of your workout.
No matter what type of athlete you are or aspire to be, 1MR VORTEX™ is a pre-workout powder that offers something for everyone. So if it's size and mass or energy and endurance you're looking for, 1MR VORTEX™ is the product that will outperform competitors regardless of fitness goals. 1MR VORTEX™ is an extreme pre-workout supplement gets the sweat pouring and adrenalin pumping.
1MR VORTEX™ will be available for purchase the middle of November at the #1 retail giant GNC, online super store Bodybuilding.com, and leading nutritional distributor Europa Sports Products. The release of 1MR VORTEX™ has BPI ending the year on a high. As they wrap up another successful year that involved launching eight new products and receiving several prestigious awards including the GNC "Vendor of the Year" and "Brand of the Year" Awards, BPI plans to continue the success and momentum as they head into 2014.
BPI Sports is an industry leader in sports nutrition other popular products including Whey-HD™ Ultra Premium Whey Protein Powder, B4™ Once-Daily Fat Burner, PUMP-HD™ Pre-Workout Muscle Formula, PRO-HD™ Testosterone Booster and BEST BCAA™ Branched Chain Aminos.
About BPI SPORTS
Headquartered in Hollywood, FL, BPI is the fastest growing Sports Nutrition company, both domestic and abroad, with products in popular categories such as weight loss, muscle building and athletic performance. For more information on BPI SPORTS please visit http://www.bpisports.net or on facebook at https://www.facebook.com/BPIonline.