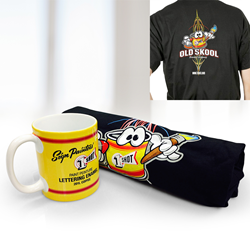 Chicago, IL (PRWEB) April 26, 2016
With the recent launch of 1ShotStore.com, 1 Shot aficionados can display their passion for the brand with an expanding line of official merchandise. The new online store offers t-shirts, caps, signs, mugs, pins, paint accessories and more. Since 1948, 1 Shot has been the benchmark in lettering, striping and auto graphic enamels. The online store has the goal of remaining true to the 1 Shot legacy.
"The brand loyalty of the 1 Shot customer base is well known in the industry. That loyalty stems from customers' trust in 1 Shot Lettering Enamels accurately rendering their artistic expression. The online merchandise store is a response to that loyalty and passion," stated Jan Scheske, Manager of Marketing and Customer Service.
The 1 Shot management team has hand-selected quality products and contracted with industry artists to ensure the 1 Shot brand is represented well. Pinstriping gurus will appreciate the t-shirt selection, each featuring a unique pinstripe design. The 1 Shot coffee mug design is based off of the iconic 1 Shot yellow can. Of special interest are the metal 1 Shot logo and paint can signs, designed and produced by the legendary Von Hot Rod.
"It is now easier than ever to show the world that you insist on the best--1 Shot Lettering Enamels," noted Ellen Dyar, Marketing Specialist for 1 Shot.
The 1 Shot Store is the only source for official 1 Shot merchandise. Paint is not available from this website. Major credit cards are accepted. To view and order the products, visit http://www.1ShotStore.com.
About 1 Shot / Matthews Paint
Since 1948, 1 Shot Lettering Enamels has been the benchmark in lettering, striping and auto graphic enamels. PPG Industries acquired Spraylat and its brands, including 1 Shot, in December 2012 and integrated Spraylat with Matthews Paint. For over 80 years, Matthews Paint has manufactured the highest quality of industrial coatings for their customers. As a major supplier to the architectural signage industry, Matthews Paint works with fabricators, designers and architects in coating technologies and color development including a library expanding to more than 80,000 colors. Matthews Paint continues to lead the industry with environmentally-minded products while maintaining high standards of performance.
###