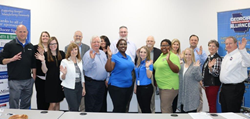 "Our main objective is to provide our manufacturers, suppliers, and service industries the resources they need for every area of their business," said Jason Moss, CEO of the Georgia Manufacturing Alliance.
ATLANTA (PRWEB) April 23, 2019
The Georgia Manufacturing Alliance(GMA) experienced continued growth in the 1st Quarter of 2019 surpassing even the expectations of CEO and founder, Jason Moss. Georgia was named for the 6th consecutive year as the Number 1 state to do business. As the economy and the manufacturing sector continues to improve in the U.S., the manufacturing community in Georgia is reaping the benefits.
"Our first quarter has been an exciting ride as we have exceeded our goals for GMA," said Moss. "We have launched several new initiatives including an historical coffee table book – Manufacturing Success in Georgia and the monthly 'Today in Manufacturing' Radio Show."
Some of the Georgia Manufacturing Alliance's 1st Quarter highlights included:

MANUFACTURING SUCCESS IN GEORGIA: An Illustrated History coffee table book announced with HPN Publishing
Today in Manufacturing Monthly Radio Show launched in conjunction with Supply Chain NOW Radio
January Edition of the Georgia Manufacturing Directory produced
GA House of Representatives recognizes the Georgia Manufacturing Alliance with a Special Resolution
Addition of a Membership Director and Administrative Assistant
Addition of 60 new members with 330 member companies represented across the state
Fastenal, North America's largest fastener distributor, joins the Georgia Manufacturing Alliance as an Annual Sponsor
23 plant tours, educational workshops, and networking events hosted so far this year
Press Coverage Received – Cobb Business Journal, Gwinnett Daily Post, Gainesville Times, Marietta Daily Journal, and Supply Chain NOW Radio
"As we reflect our 1st Quarter of 2019, we are very thankful for everyone who partnered with us to bring about this success," stated Mr. Moss. "Our main objective is to provide our manufacturers, suppliers, and service industries the resources they need for every area of their business. We are looking forward to this being our best year ever."
ABOUT GMA: The Georgia Manufacturing Alliance (GMA) is a membership-based industry organization founded in 2008 to support Georgia's manufacturing community. GMA provides monthly plant tours, educational sessions, tradeshows, and unique networking opportunities designed to help make profitable business connections for its members. The Georgia Manufacturing Directory, Georgia Manufacturing Summit, Georgia Manufacturing Calendar, and Buy From Georgia website are additional resources produced by GMA. To learn more about the organization, membership, and upcoming events, please call 770-338-0051 or visit their website https://www.georgiamanufacturingalliance.com/