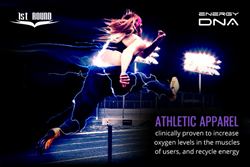 We poured our blood, sweat and tears into this line, and we can't wait to see athletes everywhere perform better with the help of our clothing.
Los Angeles (PRWEB) February 25, 2014
Today 1st Round Athletics unveiled its brand new performance-enhancing apparel line with the launch of an Indiegogo campaign. Unlike any other line in its class, 1st Round Athletics uses a mineral compound yarn they call EnergyDNA® to create a renewable energy resource by delivering more oxygen to the muscles.
"We're excited that this day is finally here," said Sterling Brewster, President of 1st Round Athletics. "We poured our blood, sweat and tears into this line, and we can't wait to see athletes everywhere perform better with the help of our clothing."
One 2011 Business Insider headline likened the company's pursuits to "Building The Next Nike." While they intend to do just that with design and magnitude, 1st Round is bringing an entirely new flavor to sportswear with 1st Round Athletics. The technology used that differentiates 1st Round's comprehensive apparel line from others on the market converts heat emitted from the body into reusable infrared energy. This recycled energy is then channeled back to the body, expanding the capillaries to allow for increased blood flow. More blood flow means more oxygen delivered to the muscles, which prevents the buildup of lactic acid. Fatigue is caused by lactic acid buildup, so by channeling more oxygen to the muscles, this ultimately cuts down on fatigue. Four clinical trials confirm that EnergyDNA® yarn constructed with Celliant® minerals increases the amount of oxygen delivered to the muscles by 7 to 12 percent. For more detailed information regarding the clinical trials, visit http://www.1stround.com/tech.php?m=clinical_studies.
Both Shawn Crawford, an olympic gold medalist sprinter, and Jordan Campbell, linebacker for the Kansas City Chiefs, are fully endorsed by 1st Round. The company has also supplied gear to more than 60 other professional athletes. Until now, 1st Round has not had the resources to make the new line available to the world, but they plan to make that possible with a successful Indiegogo campaign.
"We're ready to make EnergyDNA® available to all athletes," said CEO Teague Egan. "Indiegogo is the perfect way for us to launch and introduce the world to a line that is truly going to be a game changer because it allows athletes to become faster, stronger and more explosive."
After years of collaborating with major designers from Lululemon and other large brands to create apparel dedicated for running, football, soccer, basketball and yoga, 1st Round gear is now available for pre-order on Indiegogo. The comprehensive lines created for both men and women include a variety of colors and styles in pants, shorts, shirts, sports bras, compression shorts, and more. Accessories are also available for those who back the campaign.
For as little as $25, campaign supporters can pre-order any 1st Round accessory item such as wristbands or socks. For $50, supporters will be able to pre-order any one piece of clothing they select, which includes anything from compression shorts to tank tops. Customizable piece combinations are available as campaign supporters reach higher perk levels. By pledging $250, supporters receive all of the pieces from an entire line of their choice in one color. The company is even offering experiential perks, such as workouts with NFL players for those who pledge $2,500 and up, with opportunities to even go to the 2015 Pro Bowl in Hawaii and hang out with the 1st Round team at their gifting suite.
To learn more or support the Indiegogo campaign today in exchange for perks, visit http://bit.ly/1stRoundIndie and follow the company on Twitter @1stround and Facebook.
ABOUT 1st Round
1st Round is a lifestyle sports and music brand. A college dorm room start-up, the founders believed in taking the next step through innovation. For more information, visit http://www.1stRound.com.