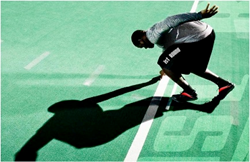 I've become stronger, faster, and more explosive.
Los Angeles, CA (PRWEB) March 22, 2014
For those late to the game, 1st Round Athletics has recently introduced its new cutting edge athletic apparel that increases athletic performance to the crowdfunding community on Indiegogo. If endorsement deals with Kansas City Chiefs linebacker Jordan Campbell and Olympic sprint athlete Shawn Crawford don't speak truth to the brand, the crowdfunding numbers do.
Within hours of launching the campaign, raising money to introduce it's new apparel line to the masses, 1st Round brought in thousands of dollars from supporters on the platform who believed in their new product, energyDNA®. This new mineral compound yarn, when woven into fabric as 1st Round does, creates a renewable energy source by delivering more oxygen to the muscles of those wearing the apparel.
As of now, the team at 1st Round only has the capacity to deliver their gear with energyDNA® technology to select athletes from the NFL, NBA, MLB and Olympic Team USA. These athletes have had the chance to train in all of the different pieces, and the feedback has been nothing short of positive.
Between 2004 and 2008, Olympic Sprinter Shawn Crawford received not only two silver medals for the 200 meter and 4x100 meter relay, but an Olympic gold medal for the 200 meter sprint.
"Every advantage you can get is worth it," said Crawford. "energyDNA® gives me that advantage for me to be the best in the world. It's apparel that gives back. If you don't get with the program, you're going to be left behind."
energyDNA® converts heat emitted from the body into reusable, infrared energy. This recycled energy is then channeled back to the body, expanding the capillaries to allow for increased blood flow. More blood flow means more oxygen delivered to the muscles, which prevents the buildup of lactic acid. Fatigue is caused by lactic acid buildup, so by channeling more oxygen to the muscles, energyDNA® ultimately cuts down on fatigue.
After multiple clinical trials, results have shown that the energyDNA® yarn, constructed with Celliant® minerals, increases the amount of oxygen delivered to the muscles by 7 to 12 percent.
At the age of 25, after playing for USC for three years and logging a pair of 100-tackle seasons at NCAA Division II New Mexico Highlands, Jordan Campbell started his career with the Cincinnati Bengals as a linebacker and recently signed with the Kansas City Chiefs.
"After wearing 1st Round energyDNA® for the past 6 weeks, I can't believe how much my performance has increased," adds Campbell. "I've become stronger, faster, and more explosive."
1st Round has supplied their new, performance-enhancing gear to over 60 other professional athletes including NFL Pro-Bowlers, NBA All-Stars, #1 Ranked Boxers and many more. The challenge is coming up with the funds to mass produce the apparel line for the general population, which is why the company has looked to the crowdfunding community for help launching its latest brand.
Those interested in supporting the campaign can visit http://bit.ly/1stRoundIndie where they can purchase energyDNA apparel starting at $25. Also Like 1st Round on Facebook and Follow them on Twitter @1stRound to stay up to date with campaign announcements and learn about contests, prizes and more.
About 1st Round
1st Round is a lifestyle sports and music brand. A college dorm room start-up, the founders believed in taking the next step through innovation. For more information, visit http://www.1stRound.com.