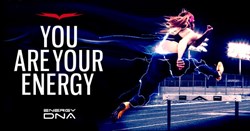 We've got a great product, and a few of the world's top athletes are using it already. With this Kickstarter campaign, we're bringing 1st Round to the masses.
Los Angeles (PRWEB) February 10, 2014
On February 17, California-based company 1st Round Athletics will introduce its performance-enhancing technology, EnergyDNA®, to the world of athletic apparel with a Kickstarter campaign launch.
EnergyDNA®, the technology that differentiates 1st Round's comprehensive apparel line from others on the market, converts heat emitted from the body into reusable infrared energy. This recycled energy is then channeled back to the body, expanding the capillaries to allow for increased blood flow. More blood flow means more oxygen delivered to the muscles, which prevents the buildup of lactic acid. Fatigue is caused by lactic acid buildup, so by channeling more oxygen to the muscles EnergyDNA® ultimately cuts down on fatigue. The technology in 1st Round apparel essentially offers athletes a renewable energy resource.
"We've assembled an awesome team, including scientists and designers from around the country, to create our line of apparel," said Sterling Brewster, President of 1st Round Athletics. "We've got a great product, and a few of the world's top athletes are using it already. With this Kickstarter campaign, we're bringing 1st Round to the masses."
The company cites four clinical trials that have proven the effectiveness of EnergyDNA® over the last decade. According to the studies conducted, the material used in EnergyDNA® increases the amount of oxygen delivered to the muscles by 7 to 12 percent. For more detailed information regarding the clinical trials, visit http://www.1stround.com/tech.php?m=clinical_studies.
1st Round will hit the market with a broad range of men's and women's pieces, as well as lines for different sports including football, soccer, basketball, running, yoga and cross training. Their men's line will initially include an array of pants, shorts, shirts and other compression garments. The women's clothing includes a variety of sports bras, tight and loose fitting shirts, shorts, capris and full length leggings. Other gear and accessories, including products such as wrist bands, head bands and socks, are available for both sexes.
CEO, Teague Egan states, "Our mission from day one has been to increase the performance of athletes all over the world." Brewster and Egan are working to make 1st Round apparel accessible to athletes everywhere. A few professional athletes in the NFL, NBA, MLB, and Olympics have already had a chance to wear it. Both Jordan Campbell, linebacker for the Kansas City Chiefs, and Shawn Crawford, an olympic gold medalist sprinter, are fully endorsed by 1st Round. The company has supplied gear to over 60 other professional athletes.
"Every advantage you can get is worth it," said Crawford. "EnergyDNA® gives me that advantage for me to be the best in the world. It's apparel that gives back. If you don't get with the program, you're going to be left behind."
When the campaign launches on February 17, backers will have several options to choose from to support the campaign. For $25, backers can pre-order any accessory item, such as wristbands or socks. For $50, backers will be able to pre-order any one piece of clothing they select. Customizable piece combinations are available as backers offer more cash to back 1st Round's campaign. The company is even offering experiential rewards such as workouts from NFL players for those who pledge $2,500 and up, with opportunities to even go to the 2015 Pro Bowl in Hawaii and hang out with the 1st Round team at their gifting suite.
For more information about 1st Round Athletics and to keep up with the Kickstarter campaign before launch day, please visit http://www.1stRound.com and follow the company on Twitter and Facebook.
ABOUT 1st Round
1st Round is a lifestyle sports, music, and entertainment brand. The company aims to revolutionize each of these industries by creating groundbreaking products and technologies. A college dorm room start-up, the founders believed in taking the next step through innovation . With the company motto, "GO HIGHER!" nothing is impossible. For more information, visit http://www.1stRound.com.