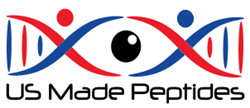 US Made Peptides Now Offering Melanotan 2 In Stock and Ready for Shipment; Competitive Prices Available on All Research Peptides Through Online StoreUS Made Peptides is now offering melanotan 2 online.
Los Angeles, CA (PRWEB) February 13, 2014
When searching for research peptides, there is no better option than US Made Peptides. US Made Peptides now has melanotan 2 in stock and ready for immediate shipment along with a giant selection of other peptides. Their huge peptide selection makes them the premier online destination for peptides. US Made Peptides carries ultra high quality peptides including: melanotan 2, Amino GF-2, CJC-1295, Triptorelin (GnRH), Hexarelin, and PT-141. All US Made Peptides are available to be shipped internationally. All peptides are made in America by chemists that are trained in the United States. Compared to Chinese made peptides, American made peptides offer higher quality raw materials and the highest purity on the market. US Made Peptides does not use any mystery substances to provide filler on the products.
One of the most popular products available today for research purposes is Melanotan 2. Available in a 10mg vial, the peptide is competitively priced and available in packages of 1, 5, or 10. US Made Peptides also offers wholesale pricing. Melanotan 2 is a synthetic peptide that studies have demonstrated to exhibit potent tanning (melanogenesis) and libido enhancing effects. Melanotan II is a variant of alpha-melanocyte stimulating hormone (α-MSH), a melanocortin peptide hormone which is produced naturally in the body. Structurally, Melanotan II is a cyclic heptapeptide analog of the alpha-melanocyte stimulating hormone (α-MSH) that tends to induce skin tanning. Melanotan II has the additional effect of increasing libido naturally through stimulation of the melanocortin receptors. The item is not for human consumption and for research purposes only. Lyophilized Melanotan-II (MT-2) although stable at room temperature for 3 weeks, should be stored desiccated below -18°C. Upon reconstitution FST should be stored at 4°C between 2-7 days and for future use below -18°C.
Now is the time to buy peptides online. With exceptional prices and the highest quality peptides available, there's no better option than US Made Peptides. All orders places before 1pm EST Monday-Thursday will be shipped on the same day.
For more information, log on to: http://www.usmadepeptides.com