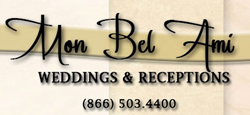 Mon Bel Ami is now offering affordable, exciting, and luxurious Las Vegas wedding packages for couples searching for everything Las Vegas has to offer!
Las Vegas, Nevada (PRWEB) February 24, 2014
Mon Bel Ami, the Premier destination for Las Vegas Weddings, is now offering new affordable Las Vegas Wedding Packages. Mon Bel Ami is the foremost destination when planning a wedding in Las Vegas. Offering superior elegance, class, and affordability – with all of the fun and excitement of getting married in Las Vegas. Mon Bel Ami spoils each bride and groom in luxury, like no other wedding venue in Las Vegas. Each Las Vegas Wedding Package fits any size budget – big or small. Professional photography is also included with every ceremony. Personalized, photography packages can include 100+ posed photos as well as off site shoots on the Las Vegas strip.
The dedicated team of wedding coordinators works to provide each couple with Las Vegas Wedding packages that offer affordable luxury. Dedicated to providing stress free planning, each Mon Bel Ami wedding coordinator is dedicated to helping every step of the way. If a couple is planning a small intimate ceremony with just a few family members or friends, or a grand affair complete with a reception, custom bouquets, hummer limousine, and a photography shoot on the strip – the passionate and expert team can do it with ease and style. Locations and chapels at Mon Bel Ami have also consistently been voted "most beautiful" in Las Vegas and all locations are easily accessible on the Las Vegas strip. With Mon Bel Ami, it is the little things that matter. Always paying attention to each intricate and exquisite detail, ensuring that every bride and groom has the most magical ceremony. Couples can choose to have their wedding ceremony in a Tradition Chapel setting, Classic Gazebo Venue, or the ultra chic Le Pavilion outdoor gazebo area. There is no going wrong with one of these locations and the best Las Vegas Wedding packages in town.
Mon Bel Ami offers the absolute best in Las Vegas weddings. With affordable Las Vegas Wedding packages for any size wedding and budget – the team can make every wedding dream a reality. To learn more about the best in all inclusive Vegas wedding packages and venues offered log on to: http://www.MonBelAmi.com or call 866-503-4400.