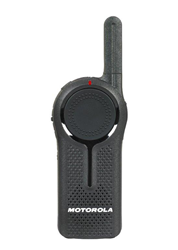 With the new DLR Digital two-way radios, Motorola is setting a new standard that will immediately and in some cases dramatically improve campus-wide communication.
Jackson, MS (PRWEB) September 09, 2015
Forestry Suppliers Inc., a leading authorized reseller of Motorola two-way radios, is advising colleges and universities on how they can significantly improve communication and coordination by equipping their staff with the groundbreaking new Motorola DLR Digital two-way radios.
"Despite facing tremendous pressures to cut budgets and streamline operations, many colleges and universities are facing an influx of student enrollment. This means new technologies and approaches are required to ensure consistent, seamless, and efficient communications among all staff," commented Brigg Abercrombie, New Products Manager at Forestry Suppliers. "With the new DLR Digital two-way radios, Motorola is setting a new standard that will immediately and in some cases dramatically improve campus-wide communication."
Key features of the new DLR Digital two-way radios that Abercrombie and his team at Forestry Suppliers anticipate will benefit college and universities the most include:

Extreme range: the radios deliver clear communications indoors or outdoors covering up to 300,000 square feet/20 floors.
License-free operation: colleges and universities no longer have to pay regulatory licenses or administrative fees.
Immediate response: the radios allow all staff to communicate immediately and efficiently on any issue, such as a safety or security incident.
Compact design: the radios feature small and lightweight design that allows all faculty, security, and administrative staff to wear it discreetly on their belt or carry in their pocket.
Enhanced privacy: the radios operate in the 900 MHz ISM and use hopping technology to continually change frequencies, which makes it virtually impossible for unauthorized parties to listen in.
Ease of use: the radios are designed for easy operation -- staff simply pick up a radio and start communicating.
Abercrombie added: "The extreme range of the new DLR radio makes it ideal for schools with large campuses, and the license-free operation allows for immediate savings up to thousands of dollars -- not to mention hours each year in filing license applications."
Other special features of the new DLR Digital two-way radios include private reply, direct call, call all available, instant mute, talk permit tones, home channel, long 14-hour battery life, comfortable ear pieces, rugged design with built-in antimicrobial protection, and advanced configuration menus with voice prompts.
More information on the groundbreaking new DLR Digital two-way radios can be found on the Forestry Suppliers website: http://www.forestry-suppliers.com/product_pages/Products.asp?mi=89010.
About Forestry Suppliers
Forestry Suppliers, Inc. is a worldwide supplier and distributor of general-use and specialty products and equipment for natural resource professionals. Their annual catalog and website contain a complete selection for a wide range of outdoor industries, including forestry, agriculture, arboriculture, landscaping, horticulture, grounds maintenance, surveying, engineering, remote sensing, vegetation management, construction, home inspection, utilities, wildland fire fighting, geology and mining, archaeology, anthropology, parks and recreation, golf courses, wildlife management, fisheries and aquaculture, earth science education, environmental engineering, hazmat, and remediation.
Founded in 1949 by Jim Craig, former Mississippi State Forester, Forestry Suppliers, Inc. maintains a distribution warehouse and administrative headquarters in Jackson, Mississippi. For more information about Forestry Suppliers, visit them online at http://www.forestry-suppliers.com. Technical Specialists are also available at 800-430-5566 to answer questions about product selection and usage.
Forestry Suppliers is a Motorola authorized business two-way radio reseller offering DLR, RM Series, RDX Series, CLS Series business radios, and other models. They have carried Motorola products for more than 30 years.
MOTOROLA, MOTO, MOTOROLA SOLUTIONS and the Stylized M logo are trademarks of Motorola Trademark Holdings, LLC and are used under license. All other trademarks are the property of their respective owners. © 2015 Motorola Solutions, Inc. All rights reserved.