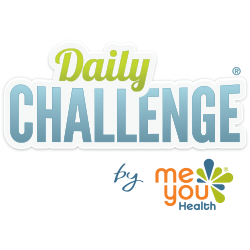 "We've found across multiple projects and studies that building social interventions to be used by the widest possible number of people drives not just engagement, but also effect,"
Boston, MA (PRWEB) June 04, 2015
The first challenge made its debut in September 2010. In fewer than five years, the app has motivated people to take action to improve their well-being more than 20 million times, sharing and connecting with others as they do. Daily Challenge has a vibrant and active community, with challenges completed in every country in the world.
Daily Challenge is MeYou Health's first and longest-running intervention, and its premise is simple. Members receive a daily email that contains a small, manageable action. The day's challenge focuses on one of the many aspects of well-being: healthy eating, physical activity, emotional health, financial wellness, and community, among others. People do the challenge and share how they did it. They can also smile and comment on others' posts, as well as encourage others to do the day's challenge.
These social interactions are designed to enhance the impact of the program for both individual users and larger groups. "We've found across multiple projects and studies that building social interventions to be used by the widest possible number of people drives not just engagement, but also effect," said Nathan Cobb, MD, Chief Medical Officer at MeYou Health. "By allowing anyone to use Daily Challenge for free, we drive added benefit for everyone across the entire network of participants."
About Daily Challenge
Daily Challenge encourages participants to complete one of thousands of small actions each day. Challenges are easy, fun, and designed to improve all aspects of well-being.
About MeYou Health
MeYou Health delivers a turnkey program that improves well-being by encouraging people to walk more, eat better, quit smoking, and make healthier decisions. The program focuses on validated engagement, scientifically proven clinical effect, and social features, with supporting services that include incentives integration, eligibility checks, real-time activity dashboards, and quarterly and annual reporting. MeYou Health, LLC is a Healthways, Inc. company.
For all inquiries, please contact:
Sean Landry
Head of Brand & Marketing - MeYou Health
press@meyouhealth.com