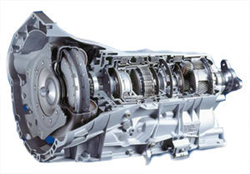 Buyers who depend on our resource to locate affordable replacement gearboxes can benefit from the sales programs that are included with the Explorer units now available
Bay City, MI (PRWEB) January 03, 2014
Sales of Ford Explorer vehicles remain strong in the U.S. market, partly due to the increase in technology by Ford Motor Company. The replacement parts industry is one portion of the auto industry increasing in demand and the Preowned Transmissions company is now boosting its for sale inventory. This company is now selling used 2005 Ford Explorer transmission inventory online at http://preownedtransmissions.com.
This transmission series is currently offered in two types of builds to ensure that buyers have access to different units online. The automatic 5R55W and 5R55S are now presented in the inventory that is searchable using the system available on the Preowned Transmissions company website.
This new acquisition of Ford assemblies is one strategy helping to increase the amounts of inventory that is marketed in the U.S. this year. Existing Ford builds in the used inventory in stock are each contributing to the growing inventory that is now presented online for automatic gearboxes.
"Buyers who depend on our resource to locate affordable replacement gearboxes can benefit from the sales programs that are included with the Explorer units now available," said a source from the PreownedTransmissions.com company.
One change recently made to the complete inventory of used condition gearboxes now positioned for online sale is the packaging of warranty coverage. Because some buyers purchase from sources that include no parts coverage, all Preowned Transmissions company inventory is now paired with a warranty plan that covers most OEM parts.
"Each policy for warranty coverage that we include with each sale is expected to cover each unit from unforeseen problems or breakdown that could be common with some parts in replacement gearboxes," the source included.
The Ford Explorer transmissions in used condition now marketed online is one phase of the company updates scheduled through the remainder of next year. The change to new gearbox suppliers last summer has now positioned the PreownedTransmissions.com website as a growing resource for North American parts buyers to order from online.
About PreownedTransmissions.com
The PreownedTransmissions.com company currently markets replacement transmissions that are purchased through suppliers in the United States and offered at a discount price direct to car owners and other parts buyers. This company updates the inventory that consumers access daily online through automated industry tools. The PreownedTransmissions.com company now includes a warranty program with each gearbox sold as one additional bonus level of coverage for each buyer. The toll-free telephone number installed in 2013 by this company is now used for customer support and offline price quotation deliveries.