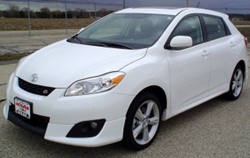 The preowned parts now for sale for 2007 and other production years of the Matrix should help fill a void in consumer parts sales
Milwaukee, WI (PRWEB) June 05, 2014
Matrix is one of the sedan vehicles produced by Toyota and parts for this brand are now for sale at the autoprosusa.com website. 2007 Toyota Matrix used parts are now part of the imported components that are available for sale to owners of Toyota brand motor vehicles.
The compact car division of the Toyota company has been used in recent years to market fuel economy and vehicle safety to car buyers. The recent termination of the Matrix in 2013 for U.S. production is expected to create shortages in the parts community.
"The preowned parts now for sale for 2007 and other production years of the Matrix should help fill a void in consumer parts sales," said a customer service specialist from the Auto Pros USA company.
The used Matrix parts for sale include hard to find interior components like sensors, ignitions and replacement seats. The dealer network used to acquire all components for sale has widened and is benefitting the Auto Pros USA company on a national level to support import car owners.
"Sales of used components through our website come with different incentives that auction websites or other parts sellers on the Internet are not offering," said the customer service specialist.
The Auto Pros USA website now provides its auto parts lookup tool to the public to speed up components research on the Internet. Consumers have the option to search by year and vehicle type when exploring current Toyota or other automotive parts for sale online.
About AutoProsUSA.com
The AutoProsUSA.com company sells replacement components for most major vehicle brands throughout North America. This company has added hundreds of thousands of components since its launch in 2012. The AutoProsUSA.com website is a direct supply source for average consumers to price parts and compare these prices to other top retailers nationwide. The warranty program that is included for each parts order processed does provide more coverage to average components ordered through the company.