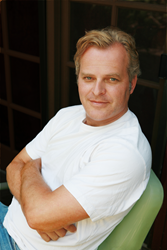 "I marry many couples over a cup of coffee. It really is up to them how they want to treat their wedding ceremonies, as long as we cover the proper formalities then it can be legalized."
Los Angeles, California (PRWEB) December 01, 2014
Chris Robinson is accustomed to the phone ringing with countless engaged couples eager to elope or have a quick wedding ceremony. It's a daily occurrence since he is one of the top wedding officiants in Los Angeles. But this month, with the holiday season, many couples are calling to ask for a wedding before the end of the year and most do not care where or how it's done, as long as the wedding is legal.
And that's where Robinson, otherwise known as the Officiant Guy, steps in. He calls himself a recovering attorney, but he doesn't use that role in his officiating services except that he's a stickler for paperwork. "It can be very easy to mess up a marriage license, and I constantly hear about other wedding officiants who, on a regular basis, frustrate the County Clerk's office with their sloppy paperwork," Robinson exclaims. For these mistakes, the Los Angeles County Clerk's Office requires yearly meetings to educate the specialized notaries about the intricate rules for issuing a marriage license. Still there are errors, not only by clumsy notaries, but also by clumsy wedding officiants who are not notaries educated in the proper procedures for completing the marriage certificate. "The County Clerk does not make it very easy on those who mess up, so I just don't," he explains, "It's important to me, and it saves those couples I marry a lot of headaches."
Still, with the year coming to an end, many engaged couples are tying the knot to seek the benefit of either income tax deductions or health insurance advantages. Many couples have formal wedding ceremonies planned in the coming year but want to take advantage of the benefits of a legal marriage but don't want to share the information with anyone else.
"I marry many couples over a cup of coffee," Robinson says, "It is really up to them how they want to treat their wedding ceremonies, as long as we cover the proper formalities so that it will be legal." Since the Officiant Guy issues a marriage license, performs the wedding ceremony and hand delivers the marriage license and marriage certificate to the County Clerk's office, his wedding services are in high demand.
Chris Robinson is known as the Officiant Guy. He is an attorney, a specialized notary and a nondenominational wedding minister in Los Angeles County. Robinson has married many celebrities and has appeared on television shows such as "Kendra", "Gene Simmon's Family Jewels", "Ricki Lake" and "sToriBook Weddings". His website is http://www.OfficiantGuy.com