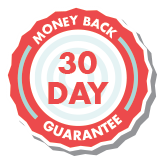 Client satisfaction is our top priority. If you don't like working with us, we'll refund your money.
Cambridge, MA (PRWEB) December 12, 2013
Cambridge Digital Marketing Firm, Pepper Gang, announced its 30-day money back guarantee, available to companies who hire any of Pepper Gang's digital marketing services.
The guarantee is aimed at business owners who understand the benefit of services like pay per click advertising (PPC), email marketing, and social media marketing, but who are reluctant to start.
"Customer satisfaction is our main priority at Pepper Gang," said Stefanie Daneau, co-founder and head of business development at Pepper Gang. "We know that it can be hard for business owners to trust an outside company with their business—especially if they have had negative experiences in the past. That's why we always offer a no commitment, no long-term contract option and a 30-day money back guarantee."
Daneau continued, "If for any reason, in the first thirty days of hiring our firm, you are not satisfied with our management, we will be happy to refund your monthly management fees. It's our way of making sure you're comfortable with who we are and how we treat your business."
Interested businesses can get started on their risk free thirty day trial by calling 855.678.6929 or visiting the Pepper Gang website.
About Pepper Gang
Pepper Gang is the Cambridge-based digital marketing company committed to the growth and success of their clients' business. The company was born out of a desire to tell each brand's story in a way that compels like-minded consumers to align with the brand. Meet the Pepper Gang team and read their story at http://www.peppergang.com.