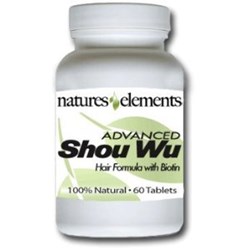 I already see improvements in growth and health of my hair and my skin is bright. - Michael
Lindenhurst, NY (PRWEB) December 19, 2013
He Shou Wu is the main ingredient in this Advanced Shou Wu formula and provides countless benefits for the body, but it is most known for its ability to turn hair back to its original color thereby reducing the appearance of gray hair. He Shou Wu works by nourishing the liver and kidney's thereby creating a better blood flow to the scalp and providing more nourishment to the head, this in turn reduces gray hair and stimulates hair growth.
All forms and potency of He Shou Wu are out there and it is important to research and know what form will provide the greatest benefit. Nature's Elements provides the purest and most potent form of He Shou Wu seen on the market. Natures Elements formula contains a 12:1 extract of He Shou Wu. A 12:1 extract means that out of 120 pounds only 10 pounds of extracted ingredients are used resulting in a higher concentration for the tablets. This concentrated form of He Shou Wu allows 1000 mg of He Shou Wu to be in each serving. This potency is not commonly found in other products. Competitors often sell less potent products requiring users to take up to 3 tablets, 3 times a day. That's a total of 9 tablets. Because Natures Elements He Shou Wu is so concentrated the dosage is only 2 tablets once daily in the morning.
These 2 tablets also contain 10 additional vitamins and herbs all targeted for improving hair health. Most popular of which is Biotin. Biotin is known to protect against dryness and promote stronger, thicker hair, protecting hair against breakage. Niacinamide (Vitamin B3) contains many anti-aging properties and is typically used to stimulate healthy skin. Pantothenic Acid (Vitamin B5) also works to help fight wrinkles and graying of the hair.
For a complete list of Advanced Shou Wu ingredients and More information on the benefits of this product please visit: http://natureselements.net/ADVANCED-SHOU-WU.html.
Natures Elements, a high quality vitamin and herbal supplements retailer, is committed to providing real results through dedicated research and superior formulations.