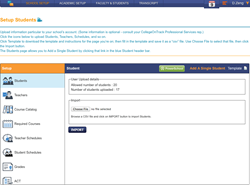 CollegeOnTrack's integration with PowerSchool allows districts to easily access critical student data for college and career planning.
Palo Alto, CA (PRWEB) September 08, 2014
CollegeOnTrack announced today that it is collaborating with Pearson, the world's leading learning company, through an independent software vendor (ISV) partnership agreement to integrate its college and career readiness system with Pearson's PowerSchool student information system.
PowerSchool, the most widely used web-based student information system, supports more than 13 million students globally. It helps educators make timely decisions that impact student performance while creating an environment where parents, teachers, and students can collaborate in preparing 21st century learners for the future.
CollegeOnTrack, the increasingly popular college and career readiness system, now seamlessly communicates with PowerSchool for:

Student and teacher account creation
Class schedule setup and group creation
Grade tracking with Response to Intervention (RTI) dashboards
… and more.
CollegeOnTrack school administrators who use the student information system now see PowerSchool buttons on their School Setup pages for students, teachers, class schedules, and grades. CollegeOnTrack connects directly with PowerSchool and moves data transparently into CollegeOnTrack within a secure environment. There's no saving and uploading, format conversion, or other intervention required.
The smooth data exchange eliminates redundant setup and management efforts as well as human error, and allows CollegeOnTrack RTI software to flag academic problems in time to help.
CollegeOnTrack vice president of marketing Phil Roybal said, "Our clients who use PowerSchool love the fact that they can take advantage of CollegeOnTrack's capabilities without having to re-enter information."
Oliver Wreford, who oversees Pearson's ISV Partner Program, said, "We are excited to welcome CollegeOnTrack to the PowerSchool ISV program. CollegeOnTrack's integration with PowerSchool allows districts to easily access critical student data for college and career planning."
For more information on Pearson's ISV program, visit http://www.pearsonschoolsystems.com/partners/current.
About CollegeOnTrack
CollegeOnTrack is a web-based system that enriches the learning experience in middle and high school as it prepares students for college and successful careers. Like a smart phone, it's a platform with apps; and it helps create interactive learning communities among students, teachers, and parents. Apps include Student Assessment, iPlan, Digital Portfolio, Colleges, Lessons & Homework, Gradebook, Dashboard, Calendar, Messages, Scholarships, and Administration. TestPrep and eTranscript are optional.
CollegeOnTrack has been on the market over two years, and is used by schools from Hawaii to New York to build college and career readiness. Learn more at http://www.collegeontrack.com.
For more information about this topic, or to schedule an interview, contact Philip Roybal at (408) 782-4244, or phil(at)collegeontrack(dot)com.
CollegeOnTrack is a trademark of ServiceInfinity Inc.