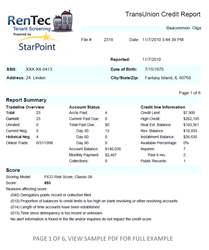 Rentec partners with the industries most trusted data vendors to bring up-to-date and accurate information directly to the landlords hands
Grants Pass, OR (PRWEB) March 31, 2014
Rentec Direct, a leading provider of tenant screening services for landlords and property managers, introduces a new setup process which radically simplifies the setup and credentialing process. The new setup process provides any landlord or property manager near instant access to nationwide credit and criminal data. Any landlord needing access to this information, or needing to improve the quality of their reports, can be setup and running with Rentec's tenant screening products in just minutes. Rentec subscribers who have used the new tenant screening setup process say that Rentec provides faster setups and access to the vital tenant screening data than any other screening service on the planet.
To simplify the setup process, Rentec has taken the process and simplified it down to a very simple two step process. First, any landlord or property manager is welcome to setup a completely free account at Rentec Direct, which takes only thirty seconds or less. This step immediately activates all public data searches including nationwide criminal, evictions, judgment searches, and more. Second, a welcome packet is automatically emailed to the landlord with everything needed to enable access to credit reports. For most landlords, the packet can be completed and returned in just a few minutes.
"Rentec partners with the industries most trusted data vendors to bring up-to-date and accurate information directly to the landlords hands" said Nathan Miller, president and CEO of Rentec Direct. Every popular report used by landlords to qualify tenants is included within Rentec Direct's tenant screening solutions. Rentec provides packages that include nationwide credit, FICO score, nationwide criminal search, and SSN validation for $20.95 as well as a full suite of ala-carte services where a landlord can build their own package.
To learn more about Rentec Direct's tenant screening solutions, visit their website at http://www.rentecdirect.com/screening/.
About Rentec Direct
Rentec Direct provides cloud based property management software solutions for property managers and landlords. Other popular solutions offered by Rentec Direct include tenant ACH payment processing and tenant screening, and online syndication of vacancies to more than 20 popular websites.