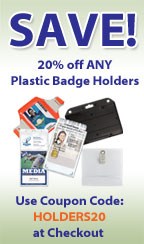 All styles on sale! Custom printing also available - contact an ID Expert at (877) 868-0012.
West Sacramento, CA (PRWEB) August 06, 2013
ID Card Group, a leading provider of ID card printers, ID systems, supplies, and accessories is offering its biggest sale ever during the month of August on all ID badge holders.
Now through August 31, 2013, customers can save 20% off IDCardGroup.com's below retail prices on any badge holder purchase by using coupon code Holders20 when checking out or phoning in an order.
Customers can choose from a wide selection of holders – including basic clip-on and hanging badge holders; large sized and shielded holders for conventions and government or military needs; hard plastic badge holders for rugged environments; proximity card holders; magnetic badge holders, and more. Made-in-the-USA and eco-friendly options are also available, as is custom printing.
With convention season approaching, customers can enjoy extra savings on ID Card Group's line of convention and event ID/credential products.
Convention badge holders and event ticket holders include clear vertical and horizontal badge/ticket holders that hang from a lanyard or chain, attach via an adhesive backing, or clip on; color-coded badge ribbon identifiers and ID holders; zip-lock and multi-pocket credential wallets and pouches; and convention-sized eco-friendly or made-in-the-USA holders for event IDs and credentials.
Customers can also customize most any ID badge or ticket holder – in addition to lanyards, badge reels, or luggage tags - on IDCardGroup.com with a logo, design, text, or symbol.
Each custom ID accessory is made to customers' specifications - and produced from high-quality materials in a variety of sizes. Since custom orders require approved artwork, they must be placed over the phone. Customers can provide their own camera-ready artwork or have ID Card Group create a custom badge holder design.
One popular accessory to customize - in addition to badge and ticket holders - is the plastic card sleeve. Card sleeves protect credit or debit cards, membership cards, and more from wear and tear. Sleeves also protect the card's magnetic stripe and shield against ID data theft. When customized, they make great promotional supplies.
In addition to a wide selection of badge holders and ID accessories, ID Card Group carries blank PVC ID cards, plastic card printers, and ID card systems that enable organizations and groups to design and print their own identification cards and badges for employees, members, and event exhibitors, staff, presenters, and vendors. ID Card Group's low price guarantee backs all products and brands in the store.
About ID Card Group
ID Card Group offers a full line of ID card equipment, supplies, and accessories – from identification and access control products, to promotional products for loyalty or membership programs, to gift, payment, or phone cards and systems. Industries such as business, schools, government, military, law enforcement, healthcare, gaming, hospitality, trade shows/conventions, sports & entertainment and more choose ID Card Group for its selection, expert service, and low price guarantee. To learn more, call (877) 868-0012 or visit http://www.IDCardGroup.com.