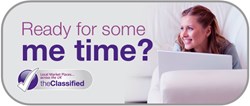 Mums want to be able to work flexible hours, fitting work or business around family life. theClassified is an opportunity to do just that, building a business right on their own doorstep.
(PRWEB UK) 2 August 2013
Boutique IT development specialist Illuceo is announcing the launch of theClassified a new local online marketplace and directory aimed at local communities around the UK. An ideal business opportunity for mums returning to work.
theClassified online marketplace is a brand new, easy-to-use advertising and selling portal which attracts private and commercial sellers and advertisers as well as buyers and community organisations.
The brainchild of entrepreneur Steve Izatt, theClassified is now set to roll out to over 500 towns and cities across the UK and to become the premier local online resource for local businesses, community organisations and people looking to buy or sell products or services locally.
theClassified makes it easy for retailers and local trades people to connect with local buyers. Private individuals can also sell their own goods such as used toys, games, bikes and CDs via the marketplace to people in their own communities looking for a bargain.
Izatt sees a great opportunity for mums faced with the challenge of balancing their children / family life with work, to run their community's theClassified website. Being your own boss brings great flexibility - a must for women with children depending on them.
Steve Izatt, founder of theClassified said: "Mums (and stay-at-home dads or even grandparents) are ideal people to run a License business such as theClassified. They are likely to have built up a network of friends in the playground which means they are nicely positioned within their community to promote the buying and selling potential of their business. As their business establishes (with the support of the wider Classified family) they can engage with local businesses to advertise their services.
"In addition to being a local advertising portal for retailers, we are creating a local marketplace. Sellers can take online payments through the website. Even businesses with no website of their own can generate sales with theClassified."
Izatt continues: "theClassified offers a business opportunity with a full support framework for people who want to start and manage their own business, in the hours to suit them. We think that people want to reap the benefits of their hard work in direct proportion to the efforts they put in.
"Mums want to be able to work flexible hours, fitting work or business around family life. theClassified is an opportunity to do just that, building a business right on their own doorstep.
"We're working with mumpreneurUK mumandworking and mumsclub to promote this opportunity to mums looking for some 'me time'.
"With nearly 100 categories and sub-categories to list in, the selling and advertising opportunities are enormous. All too often as we have developed theClassified, we have spoken to people who are disappointed with the currently available 'local' directories.
"With theClassified we're aiming to pull communities together, connecting individual and commercial sellers of products and services with the local buyers in their own backyard."
*************
Boilerplate
About TheClassified
theClassified is a network of over 500 community-based website marketplaces in towns and cities across the UK, providing local people with a single local resource where they can find the services, shops, schools, church groups and community services that are right on their doorstep. It offers local businesses, community groups and members of the general public the unique ability to advertise, buy, sell and receive payments online, all in one easy-to-use website. At local level, the Classified is run under license by entrepreneurs who use their local knowledge to bring together local businesses, services and resources in a single online market place. theClassified is wholly owned by Illuceo Ltd.